When you are in need of a commercial plumber in Dublin, OH, Apex Plumbing, Heating, and Air Pros is here for you. Businesses have markedly different plumbing needs than residential homes, adding scale and complexity to each and every job. As a commercial plumbing contractor, we are uniquely equipped to handle the needs of your business with custom solutions tailored to your facility. Here's a closer look at what we have to offer.

Expert Plumbing Services for Dublin Businesses
When it comes to your business, you undoubtedly always want to work with the best of the best. In terms of commercial plumbing contractors, that means Apex Plumbing, Heating, and Air Pros. Our technicians have the experience and expertise necessary for working in commercial environments, and you can count on us to get to know the nuances of your operations so we can deliver a plumbing system that can handle whatever you need.
Commercial plumbing is often far more complex than residential installations due to a number of factors, including:
Size of facility
Unique tasks requiring water supply
Higher water consumption
Additional building codes and regulations to follow
As you can see, an experienced commercial plumber will be much better able to handle the additional needs of businesses and the complications they present. When you work with us, one of our dedicated commercial plumbers will come out to your Dublin business facility for a consultation. This will give us a chance to better understand your company's requirements, the layout and size of your facility, and any unique plumbing applications you may need.
Once we know what we are dealing with, we can begin to design your organization's custom plumbing system. Of course, we can complete the installation as well and help you maintain your system over the years with regular tune-ups. Keeping up with maintenance can help extend the life of your system, helping your business save money over the years.
Dublin's Premier Commercial Plumbing Contractor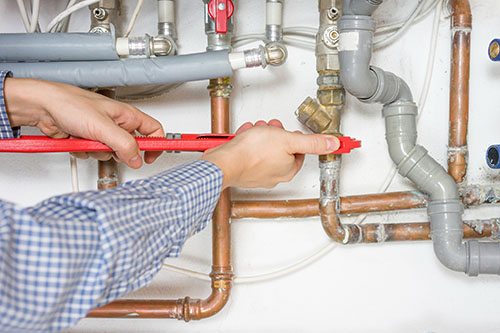 Countless homeowners and businesses throughout the region have counted on Apex Plumbing, Heating, and Air Pros for our expert services. For your business, you can do no better than our illustrious team. We pride ourselves on our attention to detail and meticulous workmanship. We also work hard to deliver exemplary customer service at every turn, from the moment you first get in touch with us until the job is complete. Our technicians are experts at what they do and receive ongoing training to stay ahead of the latest developments in the commercial plumbing industry.
For commercial plumbers in Dublin you can trust, look to Apex Plumbing, Heating, and Air Pros. Get in touch with our team today to learn more about our services and schedule an appointment for your free, no-obligation consultation.