Apex Plumbing, Heating, and Air Pros offers sump pump repair in Dublin, Ohio, helping families keep their basements dry during periods of severe weather. Sump pumps help reduce the risk of flooding and also remove excess or standing water. If your basement is prone to damp issues that a dehumidifier can't fix, a sump pump could be the solution to the problem.

Expert Sump Pump Repair and Replacement in Dublin
Sump pumps come in several forms. Traditional submersible pumps are quiet and are less likely to become clogged than their pedestal counterparts, but the pump itself may not last as long as a pedestal one due to the wear and tear caused by being submerged regularly. Pedestal pumps take up more space, but tend to last longer, assuming they're kept free from obstruction. Battery-operated pumps are useful for those who live in areas with regular storms, where there's the risk of flooding occurring during a power outage. Water-powered backup pumps use increased water pressure to remove excess water but at the cost of increased water consumption.
Your home's sump pump may require repairs or replacement if:
It is ten years old, or older
Flooding or heavy rain happens regularly in your area
The pump is constantly cycling on and off
Your pump has become clogged or cuts out frequently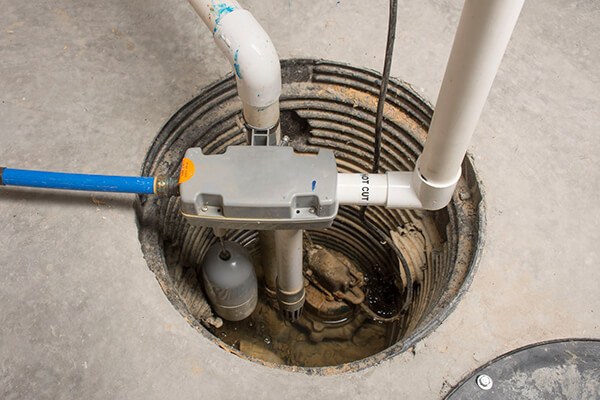 Most sump pumps can be expected to last up to ten years, although the real life span will depend on the type of pump, how often it is used and how well it is maintained. If you're having issues with your sump pump or simply want some peace of mind as you prepare for some bad weather, having a plumping specialist inspect it and perform any required sump pump repair work is a good idea.
Fast & Reliable Sump Pump Services in Dublin
Apex Plumbing, Heating, and Air Pros offers sump pump replacement and repair services in Dublin. If you have an older sump pump and it's not operating as efficiently as it could, call Apex Plumbing, Heating, and Air Pros today to arrange an inspection. Or team of plumbing professionals can advise on whether a repair or replacement would be the best option.
We offer emergency callouts for urgent repairs, and have a five-star satisfaction guarantee, helping you feel confident you'll receive prompt, professional and reliable service.
Call Apex Plumbing, Heating, and Air Pros for all your sump pump repair needs and see why so many Dublin homeowners choose us for their plumbing needs.