For repair, service, maintenance, or replacement of tankless water heaters in Delaware, OH, Apex Plumbing, Heating, and Air Pros is the name to know. Updating your old water heater to new more efficient tankless water heater is a valuable upgrade for your home plumbing system. Tankless water heaters offer a slew of benefits, and our team of trusted plumbers is ready to help you make the switch. Call us for a tankless water heater installation in Delaware today!
Why Choose a Tankless Water Heater in Delaware?
A tankless water heater, as the name suggests, does not have a water storage tank attached. That's because, unlike with a conventional water heater that requires that you keep dozens of gallons of water hot and ready for use, with a tankless heater, you only heat water as it's needed, on demand.
Tankless water heaters provide:
Energy efficiency
Longer life span
Reduced operational costs
Nearly limitless hot water supply
Space-saving design
Reduced maintenance
Because tankless water heaters only heat water as it's needed, you have lower costs with this type of water heater. In fact, with a tankless unit, you can expect to reduce your overall energy consumption for heating water by up to one-third. According to Energy Star, homeowners who install tankless water heaters can save hundreds of dollars every year by reducing energy consumption. In the matter of a few years, your tankless water heater may even pay for itself.
In addition, you can count on a tankless water heater lasting longer than a traditional tank style heater. In fact, with proper water heater maintenance, a tankless water heater can last for up to 20 years or more.

Perhaps the biggest perk of tankless water heater installation is that it provides a nearly limitless supply of hot water when you need it. Whereas a traditional tank water heater often runs out of hot water if more than one person is showering or using water for laundry or dishes, the tankless heater offers a nearly continuous supply.
Tankless water heaters are compact, requiring less room for installation than conventional models. This makes them a good choice for homes where square footage is limited. And unless you have hard water with a lot of mineral buildup, you may be able to go four or five years between maintenance appointments.
Ready for Tankless Water Heater Installation?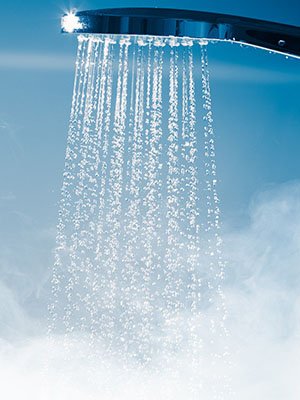 Tankless water heaters are extremely efficient, delivering the hot water you need on demand whenever you turn on the tap, start your washer, flip on the dishwasher, or get ready for a shower. With a tankless water heater, you stand to save energy, reduce your energy bill, and enjoy and almost endless supply of hot water.
Reach out to us now for tankless water heater installation in Delaware. Apex Plumbing, Heating, and Air Pros is available to install a new tankless water heater or service or repair your existing model.