If you've been thinking about tankless water heaters in Lancaster, OH, and wondering if one would meet your family's needs, you're not alone. People are drawn to convenient, on-demand hot water. It meets their family's need for showers and washing without running out, then saves energy when it's idle.
Tankless hot water heaters have longer lifespans than standard tank-based models, without the worry about a corroded tank leaking. Long-term tankless owners will enjoy today's replacement models. If you're looking to switch from an aging tank, it's time to learn about what's available!
Your Expert in Tankless Water Heaters
Your best results with tankless water heaters come with expert advice to guide your choice. After all, they can last up to 20 years, so planning ahead is wise! You'll want to think about gas or electric energy and calculate the GPM flow rate to meet your family's needs now and in the future. Tankless hot water heater energy use peaks higher when they're in operation, so you may need an updated gas or electric connection. When they're not supplying hot water, tankless water heaters basically shut down, so overall you can get great savings.

The flow rate in gallons per minute is calculated to meet your needs for one or more concurrent uses. That's multiple showers running, or a shower and washing machine. Larger homes may benefit from a higher flow rate. Once the unit is installed, you're looking at great hot water for many years to come, with routine maintenance each year an important part of keeping it going. These devices are self-monitoring, so most repairs are straightforward, and usually, you get an alert or error code! Of course, tank corrosion, leaks, and safety valve issues aren't a problem, and you won't have to pay for keeping the water hot when you're out of town.
Some advantages of tankless water heaters include:
Energy savings, heat just what you use
Longer life span
Gas or electric bill savings
Space savings!
Less maintenance
Available flow rates to meet your needs
If kitchens and bathrooms are key features in a home, the hot water supply that makes them enjoyable is important as well. That's probably why an increasing number of real estate listings specifically mention if homes have tankless hot water heaters. At Apex Plumbing, Heating, and Air Pros, our "Pros Who Knows" can install yours to enjoy now, follow up with expert maintenance, and you'll have it feature later if you decide to sell!
Experienced Tankless Hot Water Heater Services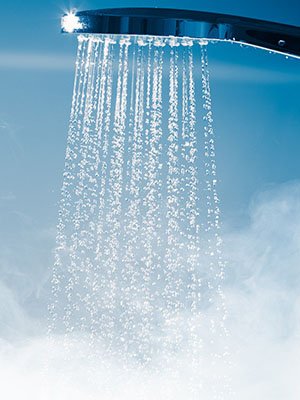 Apex Plumbing, Heating, and Air Pros offers residential and commercial plumbing services. We're experts with tankless water heater installation and replacement. We also perform regular maintenance and repairs for a long service life. Our water heater replacement process is convenient and thorough, from removing old equipment to a careful cleanup when the job is done. The experience of our expert plumbers helps you enjoy on-demand hot water in the years to come, with an installation plan that fits your home and your family's needs. We provide free estimates for water heater installation and replacement. They include clear explanations of the work to be done. Consider inspection of your hot water plumbing. Our thousands of great reviews, high standard of excellence, and 100% satisfaction guarantee make us your top choice in Lancaster. You'll be glad you called the Pros!
Are you ready for a convenient, on-demand tankless hot water heater in your Lancaster home? Call Apex Plumbing, Heating, and Air Pros today and get one installed!