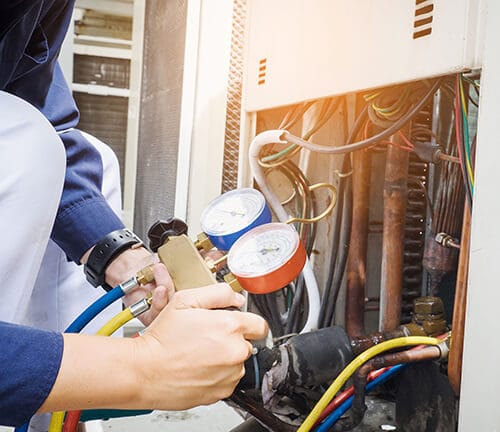 Noticing your AC unit is having a hard time trying to keep you cool? Call Apex Plumbing, Heating and Air Pros for reliable air conditioner repair in Columbus, OH. The harder it works, the more it experiences unnecessary wear that you can prevent with prompt AC repair. That's especially true if the problem is an airflow issue, which is usually straightforward to correct. Double so if the refrigerant level is low, which can also damage the compressor. With a quick visit from our HVAC professionals, prepared with the right parts and test equipment, we can get to the root of the problem and restore efficient, reliable cooling.
Certified Air Conditioner Repair in Columbus
Skilled air conditioner repair professionals know their way around all types of residential AC systems. Their AC repair training and experience includes legacy systems that amazingly are still working after decades. They also know highly efficient modern units which use significantly less energy to cool. No matter what your home in Columbus has, they'll trace the problem. Tools include electrical test equipment, refrigerant sniffers, airflow gauges, and other equipment to pinpoint malfunctions.
Watch out for these signs that your air conditioner needs repair:
Increasing energy use for unknown reasons
Unusual sounds or smells, and leaks
Changing the thermostat doesn't start cooling
Airflow is warm or nearly nonexistent
Sometimes, the apparent issue with your AC is actually only a symptom, but our technicians know how to keep looking for the answer. One AC repair example is a loss of cooling and even airflow due to icing on the evaporator coils. The ice can build up when airflow problems develop somewhere else, from a failed fan motor or belt, or even a clogged air filter. Once the warm air stops flowing through to be cooled, moisture just freezes instead of draining away. Melting the ice by itself wouldn't solve the problem, and it would return again in the next day or so.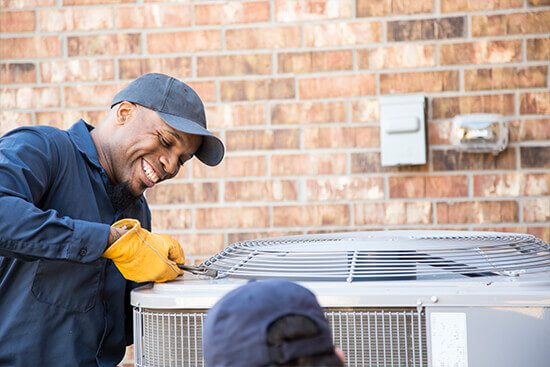 You can see why air conditioner repair skills are dependent on experience as well as training. The top technicians have seen how the systems are interconnected and can affect each other when problems arise. When the we get to work, you'll see how their process is almost intuitive. It's a product of years of developing an understanding of AC equipment.
If your AC repair issues involve different cooling results in different rooms, your ductwork, intakes, and vents may need investigating. Some types of ducts degrade over time and you may have a leak or broken ductwork, losing pressure. Diverters called dampers inside the ductwork may be set wrong, or malfunctioning if they're automatic. Your home might have a zoned ductwork system where cool air is distributed separately to different areas. The technician will diagnose based on that configuration. Whatever it takes to fix it, you'll be cool and confident in your AC when they're done.
Fast and Reliable AC Repair in Columbus
The highly skilled air conditioner repair technicians at Apex Plumbing, Heating, and Air Pros, the "Home of the Pros," have what it takes. We offer lasting, reliable cooling when your AC unit is acting up. We're proud of our people, their great results and the skill and experience they've developed. Thousands of online reviews tell the story of our team's expert services. We offer friendly, helpful customer service for our customers in Columbus and the surrounding area. Our team is glad to answer questions and provide clear quotes when they're working on your AC. We'll even provide insightful second opinions, checking out your air conditioning equipment and explaining what we've found. You'll get 5-star satisfaction and quality work.
Looking for more than AC repair? Apex Plumbing, Heating, and Air Pros can also handle your installation, maintenance and heater repair services! Trust the Pros Who Knows!
Our team also provides emergency AC repair in:
---
Get in touch with our team at Apex Plumbing, Heating, and Air Pros for air conditioner repiar in Columbus with lasting results.