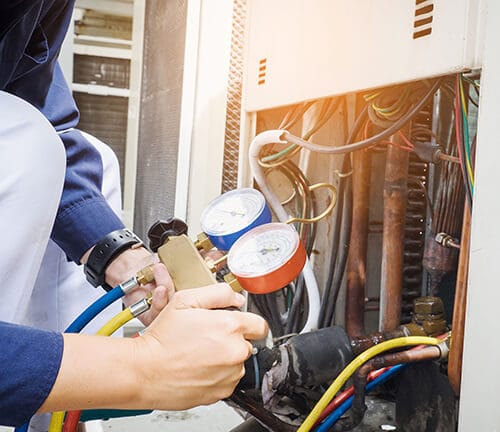 Are you looking for reliable air conditioner repair in Gahanna? Trust our team at Apex Plumbing, Heating, and Air Pros to get your AC system back up and running in no time. As the warmer seasons approach, many homeowners take their air conditioners on "test runs" to ensure the systems are working properly. Issues such as ice and debris build-up can cause "hibernating" air conditioners to malfunction once they're turned on again, and this is where a professional HVAC company can help.
Whether you're dealing with a slow-starting system after a long winter or your AC malfunctions on a hot summer day, it's important to schedule professional AC repair services as soon as possible. An expert technician knows how to detect even the most unique air conditioner issues, and they have the training and skills to perform all necessary repairs in a safe and efficient fashion.
Emergency Air Conditioner Repair in Gahanna
When your air conditioner isn't operating as it should, you may notice that it takes a long time to cool your space, or the air inside your home may feel overly dry or overly humid. If the system's air filters are clogged or dirty, this can make it work harder to effectively cool your home, which can lead to increased energy bills and inconsistent temperatures. In many cases, central air systems and window units can easily be repaired by replacing damaged components, cleaning the condenser coils, and adding refrigerant. However, there are also times when larger issues may be at play, and more extensive repairs might be needed. The best way to get your air conditioner back in working order is to schedule repair service with a reliable HVAC contractor.
A professional HVAC technician will start the troubleshooting process by thoroughly inspecting your air conditioner. The good news is that most technicians travel with fully-stocked vehicles to perform common air conditioner issues on the spot, so you won't have to wait long for your home to be cool and comfortable again.
Common signs that your air conditioner may malfunction:
Musty or moldy odors in your home
Heavy dust build up on your AC vents
Water leaking from unit
Frequent or short cycling
If more extensive repairs are needed or if the technician determines that your system can't be repaired, they may recommend air conditioner replacement. Most standard central air conditioners last between 15 and 20 years. After this time, you may find that you're scheduling repairs more often than not. In these circumstances, replacing your air conditioner may be a better option, as a new system will greatly improve your home's indoor air quality and reduce your overall energy costs.
Your AC Repair Experts in Gahanna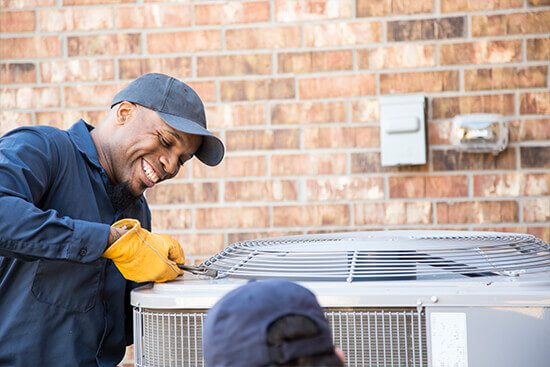 Whether you need emergency AC repair in the middle of a heatwave or you'd simply like to schedule a repair tune-up appointment, Apex Plumbing, Heating, and Air Pros can help. Our expert technicians have years of experience under their belts, and they approach every job with professionalism and a positive attitude. In our business, the customer is always right, and we provide a 100% 5-star satisfaction guarantee with every job.
Our technicians are available 24/7 for emergency repairs, and you'll always receive a free, no-obligation estimate before they begin any work. We receive consistent 5-star reviews across the web, and you can easily schedule service with through our convenient online portal or by calling us directly. We're ready to get your AC system back on track!
At Apex Plumbing, Heating, and Air Pros, we strive to provide Gahanna with the best air conditioner repair services! Contact us today to schedule an appointment!