When it comes to your business, you want an experienced commercial plumber in Gahanna, OH that understands your specific needs. This is because businesses often have vastly different plumbing requirements than their residential counterparts. From utilizing water in manufacturing and other industrial processes to providing running water throughout large, sprawling warehouse facilities, commercial enterprises often have much more extensive, complex needs from their plumbing systems. At Apex Plumbing, Heating, and Air Pros, we are proud to be a reputable commercial plumbing contractor. Let's take a closer look at how we can help your organization.

Expert Commercial Plumbers in Gahanna
In a typical residential plumbing application, you'll have running water for sinks, showers and baths, outdoor hoses, sprinkler systems, and the like. In a commercial setting, on the other hand, you'll likely have many similar components, but you may also have additional requirements, like providing water to cool heavy machinery, wash fleet trucks, and other specialized tasks.
In many cases, these unique needs will require a commercial plumbing contractor to design a customized system to achieve the desired goals. That's where our team comes in. When you get in touch with us, we'll set you up with a free consultation to discuss your needs in greater detail. Our expert commercial plumbers will work closely with you to understand exactly what your business needs so that we can deliver a system that meets those needs, taking your budget into account as well.
In addition to installing commercial plumbing systems, our team is also proud to provide plumbing repair and maintenance services for businesses throughout Gahanna and the surrounding areas.
If you notice any of the following, you may be due for plumbing repair:
Lack of hot or cold water when needed
Low water pressure
Water that is cloudy or murky
Leaks or pooling water around your facility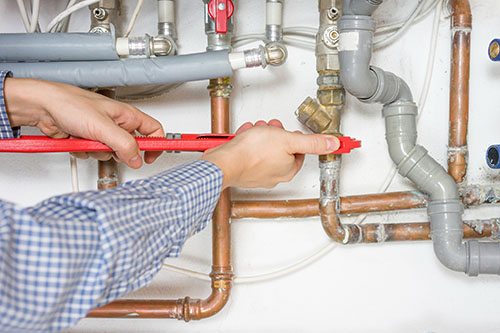 Be sure to get in touch with a commercial plumbing contractor, like Apex Plumbing, Heating, and Air Pros, if you are experiencing these or any other plumbing issues. We'll get to the bottom of it and complete the necessary repairs as quickly as possible to minimize the potential impact on your business. Of course, we won't sacrifice quality for the sake of speed, but we do our best to be as efficient as can be.
Commercial Plumbing Services You Can Trust
At Apex Plumbing, Heating, and Air Pros, we are proud to serve the needs of local businesses with our commercial plumbing services. All of our plumbers are highly skilled and work hard to keep those skills up-to-date with ongoing training and education. We strive to exceed your expectations at every turn with both our workmanship and customer service.
When you are in need of a commercial plumbing contractor in Gahanna, Apex Plumbing, Heating, and Air Pros will gladly help with whatever you need. Contact us today to get started.