Are you in need of a commercial plumber in Upper Arlington, OH? Call our team here at Apex Plumbing Pros today. We have decades of experience providing commercial plumbing services and our team is on hand to assist with all aspects of plumbing. So, if your industrial water heater isn't working quite as it should, or you have a problem with your staff bathroom, we're the team you can depend on. We know that running a business is a full-time job. You don't have time to worry about plumbing issues. That's why we ensure you can leave the hard work to our team. We'll arrive as quickly as possible to take care of your commercial plumbing problem and get your plumbing working optimally. We can help repair faults and assist with industrial plumbing installation, so just let us know what you need.

Trusted Commercial Plumber in Upper Arlington
Plumbing problems can strike your business when you least expect them and often when it's least convenient. That's when you'll need a reliable commercial plumber in Upper Arlington. The good news is that our team is on hand to assist. We deliver high-quality and honest workmanship with a five-star guarantee. Our commercial plumbing services are available all the time, which is peace of mind if your business operates around the clock or operates outside of normal business hours. Simply pick up the phone to call our team and we'll be there. From minor leaks to major breakdowns, we're on hand to help with them all. Our professional and experienced plumbers will take care of any commercial plumbing problem you are experiencing so that you can focus on your business.
Here are some of the problems we can assist you with:
Water heater faults
Leaks and low water pressure
Repairs to bathroom fittings
Drain and sewer blockages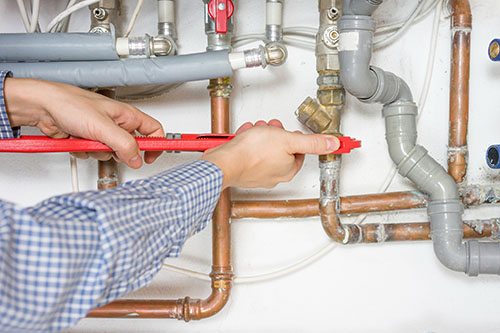 The Best Commercial Plumbing Services Around
When you're in need of a commercial plumber that can help with all industrial plumbing problems, we're the only team you'll ever need. We've been offering our services for decades, helping to keep the businesses of Upper Arlington going with reliable plumbing systems. Whether you've noticed your water heater is leaking or you have a problem with your staff toilets, we will be there fast to remedy the problem. Our plumbers have years of experience and will work closely with you so that you know when we'll be there and how long the problem will take to resolve.
Call our professionals at Apex Plumbing Pros today to schedule an appointment with a commercial plumber in Upper Arlington today. We're on stand-by ready to take your call.