Are you searching for a reliable commercial plumber in Westerville, OH? Apex Plumbing, Heating, and Air Pros has decades of experience providing quality plumbing services to commercial clients, and all of our work is 100% satisfaction guaranteed. We offer 24/7 emergency commercial plumber services, and our prices are competitive to help you stay within budget. We serve businesses of all types, including restaurants, apartment complexes, schools and retail establishments, and we look forward to serving you!

Contact us today to book a service call or learn more about our commercial plumbing team in Westerville!
Reliable Commercial Plumber in Westerville
Our commercial plumbers work with most major commercial equipment brands, makes and models, and they utilize the latest tools and technologies to provide effective and lasting solutions. Some of our commercial plumbing services include industrial water heater installation and repair, gas line installation and repair, drain cleaning and toilet repair. We offer maintenance packages for our commercial clients, and our pricing estimates are always accurate and up-front so you don't have to worry about hidden charges down the line.
Here are some common commercial plumbing issues that often require repair or replacement:
Leaky faucets
Broken toilets
Hidden or silent leaks
Water pressure problems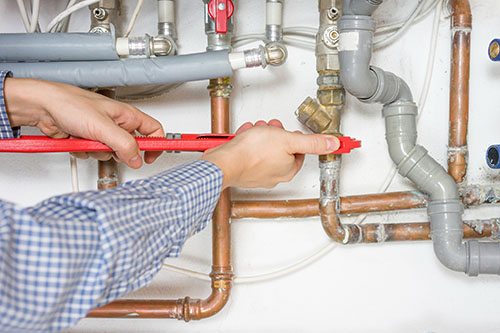 When your commercial plumbing system is in need of attention, you may notice signs such as higher water bills due to leaking pipes or a broken water heater, and you might hear gurgling sounds coming from the drains in your commercial establishment. Unusual odors, discolored water and unexplained wet floors can also point to plumbing issues. No matter what type of commercial plumbing problem you're dealing with, you can count on us to get the job done right. All of our plumbers are fully licensed, and we stand behind our work with a 5-star satisfaction guarantee on every service call.
Trusted Same-Day and Emergency Commercial Plumber
Apex Plumbing, Heating, and Air Pros has a solid reputation as a top commercial plumber in Westerville, and we stand by our work. Whether you're in need of emergency commercial plumber assistance due to a burst pipe or clogged drain or you're considering updating your industrial water heater, you can put your trust in us to provide the best solutions for all of your plumbing needs.
Contact our team at Apex Plumbing, Heating, and Air Pros today for a guaranteed 5-star commercial plumber in Westerville!