When a blocked drain strikes, you'll need a professional drain cleaning company in Gahanna, OH fast! At Apex Plumbing, Heating, and Air Pros, we offer expert drain cleaning services across Gahanna and the surrounding areas. We'd be delighted to come to your rescue. No matter what time you call us, or however complex the problem is, you can be sure of the best service at all times. With our years of experience, attention to detail, and honest prices, it's no wonder we've received many five-star reviews from our very happy customers.
Efficient Gahanna Drain Cleaning Company
Here at Apex Plumbing, Heating, and Air Pros, we understand how unpleasant and daunting a clogged drain can be. That's why we offer reliable drain cleaning services in Gahanna that you can count on. We offer a range of drain cleaning and clearing methods that will keep your drains running free once more. Many things can cause a blockage, including hair, food debris, soap, and minerals. All of these things can be cleared by our team! With our five-star guarantee and expert assistance, you can call us and know you've made the right decision.
Drain blockages can occur out of the blue. One moment you'll be going about your normal day and the next you'll hear a worrying gurgle from your drains or smell a four odor. The good news is that you have a dependable drain cleaning company that you can call on when drain disaster strikes! We're the "Home of the Pros" and will get to you fast when you need us the most. You've probably seen our trucks all over Gahanna - we're the one with the bear - and we'll get to your home as quickly as we can.
What are the Most Common Causes of Clogged Drains?
Hair: Hair is a significant cause of drain backups because it binds with grease and other sticky material to form knotted clumps that are difficult to remove.
Soap: You may wonder how soap can contribute to blocked drains, but the fact is that some soaps are made with grease or fat, which combines with minerals in the water to clog your pipes.
Dirt: While the purpose of washing clothes is to remove dirt, you can spare yourself some aggravation by removing as much loose dirt and mud as possible before putting your clothes in the washing machine. Doing this will prevent the dirt from accumulating and forming clogs.
Food Waste: Many people make the mistake of putting food waste and debris down the drain instead of putting it in the trash or on a compost pile. Food waste, coffee grounds, and tea leaves don't break down and solidify over time to cause significant blockages.
Minerals: If your water has a high mineral content, these dissolved substances can quickly build up over time, causing drains to become slow and eventually stop.
Toilet Paper: If you're one of those people who insists on using a lot of toilet paper, remember that too much going down the drain at one time can cause a blockage.
Don't wait for waste to come back up from your drains! Call us the moment you notice a problem and we'll be there. Drain blockages often get worse if not dealt with right away and believe us when we say you don't want sewage creeping back up the drains into your home! Call the drain cleaning company that cares instead. We will arrive promptly with our drain cleaning equipment and years of expertise ready to get your drain clean and clear as quickly as possible.
Your Drain Cleaning Pros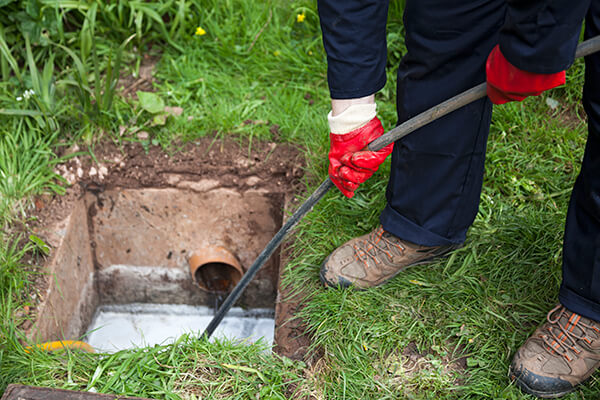 With our five-star satisfaction guarantee, honesty and transparency, and dependable service, you can trust our drain cleaning services. From Bexley to Worthington, we offer our services throughout Gahanna and we're on standby ready to help you with any drain cleaning problem today. Our drain cleaning services give you complete peace of mind. We offer exceptional service which means you can call us night or day. Discover what a difference we can make as a top-rated plumber.
If you need a drain cleaning company in Gahanna that will clear your drains fast, call the experts here at Apex Plumbing, Heating, and Air Pros.