Apex Plumbing, Heating, and Air Pros is proud to be the best drain cleaning company in Grove City, OH. The shower, utility sink, kitchen sink, and anywhere else that connects to your drain system is a potential source for debris. While drain traps can catch larger items before they enter your pipes, small particles turn into tight clogs when things go wrong. At Apex Plumbing, Heating, and Air Pros, we have fast, reliable services to give you a helping hand with clogged drains whenever they happen.
Trusted Drain Cleaning Company in Grove City
Clogged drains could mean it's time to schedule an annual cleaning or a sign of something more serious. At Apex Plumbing, Heating, and Air Pros, we inspect your pipes—inside and out—to make sure that a clog doesn't turn into a major plumbing repair. Stubborn clogs can lead to leaky pipes over time, which is why it's important to have a drain cleaning company in your list of home maintenance pros.
What are the Most Common Causes of Clogged Drains?
Hair: Hair is a significant cause of drain backups because it binds with grease and other sticky material to form knotted clumps that are difficult to remove.
Soap: You may wonder how soap can contribute to blocked drains, but the fact is that some soaps are made with grease or fat, which combines with minerals in the water to clog your pipes.
Dirt: While the purpose of washing clothes is to remove dirt, you can spare yourself some aggravation by removing as much loose dirt and mud as possible before putting your clothes in the washing machine. Doing this will prevent the dirt from accumulating and forming clogs.
Food Waste: Many people make the mistake of putting food waste and debris down the drain instead of putting it in the trash or on a compost pile. Food waste, coffee grounds, and tea leaves don't break down and solidify over time to cause significant blockages.
Minerals: If your water has a high mineral content, these dissolved substances can quickly build up over time, causing drains to become slow and eventually stop.
Toilet Paper: If you're one of those people who insists on using a lot of toilet paper, remember that too much going down the drain at one time can cause a blockage.
If you catch a clog early, you might avoid the inconvenience of a blocked drain. Early detection is key to avoiding larger plumbing repairs and leaky pipes. The faster you resolve clogged drains, the less likely you are to have additional damage. Contact our team at Apex Plumbing, Heating, and Air Pros to schedule a drain cleaning, before you have a clog.
Experts in Clearing Clogged Drains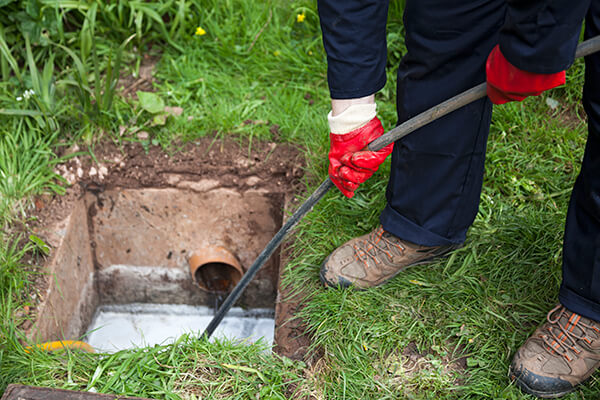 At Apex Plumbing, Heating, and Air Pros, our plumbers have decades of experience working on Grove City homes. We know how quickly a slow drain can turn into a blocked sewer system, which is why our team is always ready to help. There are never any surprises when you schedule work with our drain cleaning company. Our free, no-obligation estimate lets you know what work we'll do and how much it'll cost. Combine transparent pricing with our five-star customer satisfaction guarantee and you have a recipe designed to deliver peace of mind.
Our drain cleaning team is ready to help out Grove City residents. Call our friendly and professional team of experts at Apex Plumbing, Heating, and Air Pros, today!