Apex Plumbing, Heating, and Air Pros is the go-to provider of drain cleaning services in Westerville, OH. Our team has worked hard to become recognized as the best drain cleaning company in the city. Only a professional with industrial quality equipment will be able to clean your home's drains effectively. Apex Plumbing, Heating, and Air Pros understands the importance of responding quickly to a blocked drain as ignoring this problem can cause issues for homeowners. Drain cleaning is a hard job without the right equipment and is something best left to our experts.
We have provided this service in Westerville for many years and have worked on a wide range of systems all with different kinds of blockages. Dealing with potential blockages as soon as possible is always a better option than leaving them. This is because there is the potential of them causing leaks and corrosion in your drainage system.
Drain Cleaning Services from Westerville's Leading Experts
A professional drain cleaning service is a great choice for homeowners in Westerville. Our experts at Apex Plumbing, Heating, and Air Pros are experienced and qualified to deal with any problems in your drains. We have a lengthy history of providing drain cleaning services in Westerville and are widely regarded as one of the best in the city.
What Can Cause Drain Clogs?
Hair: Hair is a significant cause of drain backups because it binds with grease and other sticky material to form knotted clumps that are difficult to remove.
Soap: You may wonder how soap can contribute to blocked drains, but the fact is that some soaps are made with grease or fat, which combines with minerals in the water to clog your pipes.
Dirt: While the purpose of washing clothes is to remove dirt, you can spare yourself some aggravation by removing as much loose dirt and mud as possible before putting your clothes in the washing machine. Doing this will prevent the dirt from accumulating and forming clogs.
Food Waste: Many people make the mistake of putting food waste and debris down the drain instead of putting it in the trash or on a compost pile. Food waste, coffee grounds, and tea leaves don't break down and solidify over time to cause significant blockages.
Minerals: If your water has a high mineral content, these dissolved substances can quickly build up over time, causing drains to become slow and eventually stop.
Toilet Paper: If you're one of those people who insists on using a lot of toilet paper, remember that too much going down the drain at one time can cause a blockage.
Just one of these signs can indicate the need for professional drain cleaning services. When it comes to choosing a company to work on your drainage systems, there's no better choice than Apex Plumbing, Heating, and Air Pros.
Westerville's Leading Drain Cleaning Company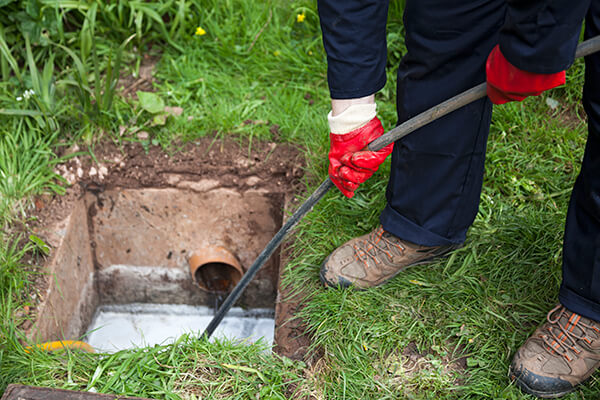 Our team is dedicated to providing each one of our customers with the best quality service money can buy. We have countless happy customers that experienced our top-rated service first-hand and now depend on us for a wide range of work. Apex Plumbing, Heating, and Air Pros is proud to be the best business for the full spectrum of drain cleaning services in Westerville. We have many years of experience working on all kinds of issues related to drains and are more than happy to help solve your problem.
If you need the best draining cleaning services in Westerville, contact the team at Apex Plumbing, Heating, and Air Pros. Our professionals will provide you with their expert opinion and top-quality services to match.