Here at Apex Plumbing, Heating, and Air Pros, we take care of all types of heating and cooling in Delaware, OH. From preventative maintenance to repair to installation of all heaters, furnaces and air conditioners, we know what it takes to deliver an outstanding job – giving you great service at highly competitive rates.
Our experience in the heating and cooling industry is unmatched, so you can trust us to get the job done right. Our HVAC company provides a comprehensive range of services for all types of properties including installation of new furnaces and air conditioning units, service and repair of existing units and regular maintenance to keep your units in good working condition.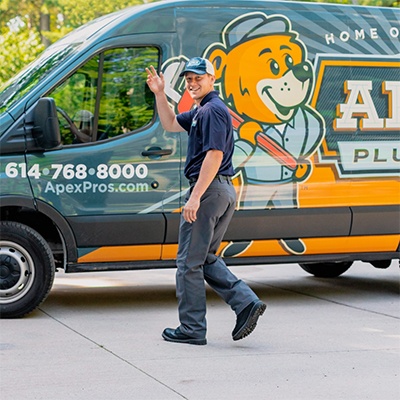 Trusted HVAC Company in Delaware for Repairs
At Apex Plumbing, Heating, and Air Pros, we have experience doing heating and cooling system repair on all types of properties – from office spaces to large family homes. We can carry out any job quickly and efficiently, with minimal disruption to you.
Our HVAC services include:
Electric furnaces
Gas furnaces
Heat pumps
IAQ testing
Humidifiers
Dehumidifiers
Air purifiers
UV lights
Air scrubbers
Air balancing
Zoning systems
Thermostats
Ductwork
Heating and cooling repair is an important part of ensuring your system runs efficiently. It is important to fix any issues quickly to prevent larger issues in the long run. Apex Plumbing, Heating, and Air Pros has worked with all types of heating and cooling brands, so our HVAC company knows what problems to look for and where to get started. We give you honest advice and help you make an informed decision about what to do next.
Looking for more than heating and cooling? Apex Plumbing, Heating, and Air Pros also offers plumbing services!
Efficient Heating and Cooling Installation Services
Older heaters and coolers should ideally be replaced by newer, more energy-efficient models that not only are cheaper to run but also don't break down as often. That means lower costs of electricity and repairs.
Our installation services are highly rated in Delaware and surrounding regions. We will come to you and discuss your needs, inspect your property and give you a free estimate. But you can expect to receive some of the most competitive installation prices when you choose to work with Apex Plumbing, Heating, and Air Pros.
Nothing can replace regular maintenance to ensure your systems run smoothly and for longer. A regular service involves the inspection of all components, so any issues are picked up before they actually start to cause problems. It also ensures your systems remain in good condition and work as energy efficient as possible, which in turn will keep your costs low.
For trusted and reliable heating and cooling in Delaware, get in touch with the team at Apex Plumbing, Heating, and Air Pros today.