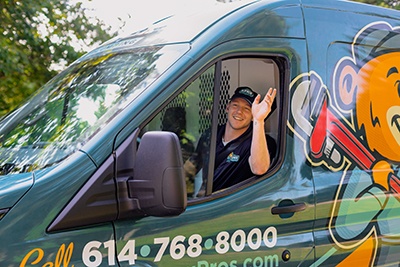 Trust our professionals at Apex Plumbing, Heating, and Air Pros for heating and cooling in Upper Arlington, OH. We provide expert maintenance and repairs to get you through warm, humid summers and cold winters. We have over 7,000 great reviews along with many awards for our skill and customer service and offer free estimates. At the "Home of the Pros", we take good care of your comfort needs in Upper Arlington!
Experienced Heating and Cooling Repairs in Upper Arlington
Timely repairs help your equipment last longer. Our HVAC services team responds quickly to odd sounds, poor performance, and emergencies with your heating and cooling equipment. We bring with us a supply of parts and equipment that prepare us to correct your problem in one visit in most cases. Our team services electric and gas furnaces, central air, heat pumps, and mini-splits of all makes and models.
Our HVAC services include:
IAQ testing
Humidifiers
Dehumidifiers
Air purifiers
UV lights
Air scrubbers
Air balancing
Zoning systems
Thermostats
Ductwork
Looking for more than heating and cooling in Upper Arlington? Apex Plumbing, Heating, and Air Pros also offers certified plumbing services!
Professional Heating and Cooling System Installation
Installation of new heating and cooling equipment isn't just to replace failing systems anymore. Today's furnaces, air conditioners, and heat pumps have significantly higher energy efficiency. From basic replacement models to variable-speed AC and modulating furnace high-end units, your monthly energy bill savings will be an important factor. Our team can explain each technology and how you can benefit, and install the system of your choice skillfully and with minimum impact on your family. You can also enjoy additional features such as indoor air quality options, zoning systems for energy management, or smart thermostat technology as well!
Skilled HVAC Services and Maintenance
Maintenance of your comfort systems from HVAC experts help the equipment serve you longer and with the best energy efficiency and emissions safety. Our maintenance team performs thorough cleaning, tune-ups, and inspection, identifying any repairs needed for timely attention. We also check and install thermostats, perform air balancing and ductwork repairs, and provide IAQ testing so we can improve your indoor air's breathability.
Call the pros at Apex Plumbing, Heating, and Air Pros for high-quality HVAC services in Upper Arlington. We're here to keep you affordably comfortable!