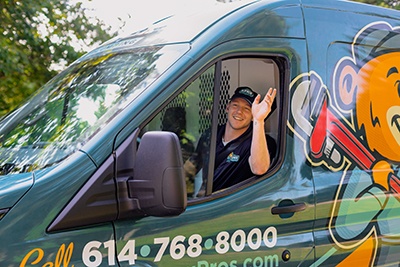 Apex Plumbing, Heating, and Air Pros is the top company when it comes to HVAC in Marysville, OH. We offer a variety of solutions to local homeowners. Whether you're looking for air conditioners, heat pumps or gas furnaces, we're here to help!
Maryville's Local Heating and Cooling Team
When installed and configured correctly, these systems keep the humidity in your home at the right level, preventing mold and mildew formation and helping you feel comfortable in both the winter and summer. They also remove contaminants such as dust, pollen and microorganisms from the air, helping keep your home's air fresh and clean.
Heating and cooling systems do more than just manage the temperature of your home. Modern systems can help improve your indoor air quality too.
Our HVAC services include:
Electric furnaces
Gas furnaces
Heat pumps
IAQ testing
Humidifiers
Dehumidifiers
Air purifiers
UV lights
Air scrubbers
Air balancing
Zoning systems
Thermostats
Ductwork
Looking for more than heating and cooling in Marysville? Apex Plumbing, Heating, and Air Pros can also handle all of your plumbing services!
HVAC Installation in Marysville
Our professional heating and cooling technicians can assist with gas and electric furnaces, air balancing and zoning systems, and air conditioning for large and small homes. Whether you're looking for mini-splits that will keep your extension cool without taking up too much space or a new system for the entire home, our skilled technicians can advise you.
We offer free estimates and would be happy to discuss your needs and guide you in the direction of the most cost-effective and energy-efficient system for your property. We'll explain the differences between the ductwork required for a large system and ductless mini-split options.
HVAC maintenance services
HVAC systems require regular maintenance to ensure they run as efficiently as possible. At Apex Plumbing, Heating, and Air Pros we don't just install HVAC units, we also offer maintenance and tune-ups. By scheduling regular visits from a qualified technician you can keep your system in top condition. After a service visit, you may find your unit runs like it's brand new.
Our team is proud to serve Marysville and the surrounding areas. Our experienced HVAC technicians are available for maintenance services and emergency repairs. If you're having issues with your heating or air conditioning, just call our 24-hour helpline for advice or to book a visit for an air conditioning tune-up.
Apex Plumbing, Heating, and Air Pros is the trusted HVAC provider in Marysville. Get in touch with our team today!