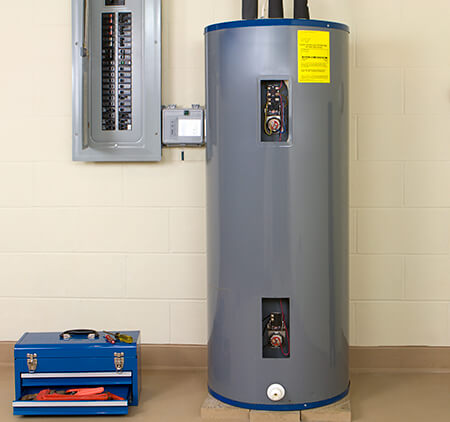 Cold winters mean an increased risk of frozen—and burst—pipes, which can also lead to damage to your hot water heater. Turning on the shower in the morning to freezing cold rain is not a great way to wake up in your Columbus, OH home! Hot water is a necessary part of running your dishwasher, getting clothes clean, and enjoying a hot soak at the end of the day. You might want to consider installing a new water heater any time you regularly run out of hot water. Having a water heater replacement company in your contacts list is a good idea. At Apex Plumbing, Heating, and Air Pros, we can help you select the right model to give you a constant hot water supply.
Reliable, Energy Efficient Water Heaters in Columbus
New water heaters come in a wide variety of sizes and styles. Traditional, tanked heaters might be tall and slim or squat to fit into unusual spaces. Sizes can range from 30-gallon, enough for one or two people to take average length showers, or 100-gallons, which works well for homes with multiple bathrooms and four or more people. Tankless styles can offer endless hot water with heat on-demand technology. Newer models provide better energy efficiency, so even tanked water heaters cost less to run when you upgrade.
Why install a new water heater? Some signs it's time for a replacement include:
Higher utility bills
No hot water
Older unit that's out of warranty
Leaky tank
Runs out of hot water too quickly
Dents in your water heater? Call Apex Plumbing, Heating, and Air Pros to help you determine how they may be impacting the functionality of your system and how to fix it.
Best Local Water Heater Replacement & Installation Company
At Apex Plumbing, Heating, and Air Pros, we know how important your home is to you. When something is not working right, it can be a major source of stress. That is why we offer 24/7 emergency plumbing services, so you never have to wait to get things working again. Our experienced plumbers are licensed and always happy to give a free, no-obligation estimate for any work you need. We put your satisfaction at the top of our to-do list with our 5-star service guarantee.
We also install and replace water heaters in:
Are you tired of cold showers and lukewarm baths in Columbus? Call us today to talk about your options for a new water heater!