With heavy rains and flooding, it's important to stay ahead of any sump pump replacement and repair in Grove City, OH. Have our team at Apex Plumbing, Heating, and Air Pros test and inspect your sump pump to make sure the discharge pipe is correct, and ensure that your pump has power.

If you need sump pump repair, we can make sure your equipment is solid so you're covered when rains come and even add features like backup battery power. At Apex Plumbing, Heating, and Air Pros, we're your full-service plumbing pros, ready to help you avoid the mess that damp or flooded basements bring.
Affordable Sump Pump Replacement in Grove City
Our expert plumbers check the full system and provide sump pump repair when needed. If you need a sump pump replacement to take over from one with 10 years or more of service, or to upgrade it from a basic stick pump to a submersible, we'll do it. As an additional backup for finished basements, or to reduce water table pressure on larger foundations, a second sump pump can make a big difference.
When we perform repairs and testing, we make sure that the sump is clear and the discharge hose leads well away from your foundation. If the hose tends to get stored near your foundation, we can install a permanent underground pipe instead. The power for your sump pump needs to be solid, preferably an exclusive circuit.
Our sump pump repair and replacement team can provide:
Testing and repair for your sump pump
Replacement pumps and backup pump installation
Discharge pipe services and testing
Battery backup sump pump features
Secondary pumps for larger and finished basements
In stormy weather you may lose power. If you don't already have a backup generator, our team can provide battery backup for your sump pump to get you through the worst of the flooding.
Grove City's Reliable Sump Pump Repair Team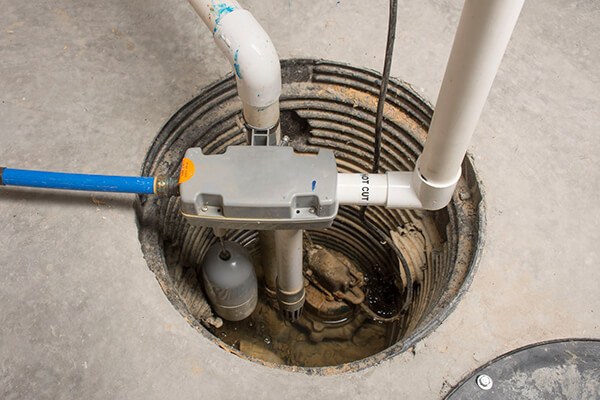 At Apex Plumbing, Heating, and Air Pros, our experienced, licensed, and insured plumbers perform expert sump pump replacement and repair in Grove City. You can trust the "Home of the Pros" to keep your home's plumbing in good shape and make sure your sump pump is ready to keep your basement dry. We provide free estimates, clear explanations of the options we offer, and high-quality service with a 100% satisfaction guarantee. Over 7,000 excellent reviews point to the "Home of the Pros!"
Do you need a sump pump check, or is it time for sump pump replacement in Grove City? Call Apex Plumbing, Heating, and Air Pros for service by the pros!