When the big storms hit and unleash a torrent of rain, sump pumps in Pickerington, OH, are hard at work keeping basements dry and transporting water to a safer place outside of the homes they're in. Although the sump pump is a relatively small device, it has a big job to do and needs the proper care in order to do it well. While there are several maintenance actions you can perform on your own, some things are better left to a licensed plumber to make sure your sump pump is working efficiently. Any effort you put into looking after your sump pump will seem like a worthwhile investment when you wake up to a dry floor after an unexpected downpour.

Pickerington Sump Pump Installation and Repair
The first step to maximizing the benefits of a sump pump is to make sure you have one in place. If your home doesn't have a sump pump, there are a few reasons you might consider having one installed. Homes that are built below the local water table or those that have experienced flooding in the past should definitely make the call to have a sump pump added.
If you already have a sump pump, remember that the average life span is 7 to 10 years. If your pump is older than this, it's time to think about a replacement. Make sure to bring in a professional plumber to handle your sump pump installation. Even small installation mistakes can have big consequences when it's time for your sump pump to perform.
Once you have your sump pump in place, your next priority is keeping it in good working order. Along with routine maintenance, remember to schedule sump pump repair promptly if you notice there's a problem. Sump pumps in need of repair may still run, depending on the type of repair needed, but they won't do so efficiently. This can lead to your sump pump being overworked, potentially causing further damage and shortening the amount of time you have before it needs to be replaced. Keeping up with repairs ensures it can do its job effectively when it's all that's standing in the way of water damage.
Here are a few of the most common reasons sump pumps fail:
Pump is overworked
Power supply problems
Frozen or clogged discharge pipe
Wrong size sump pump
Stuck float switch
Maintaining Pickerington Sump Pumps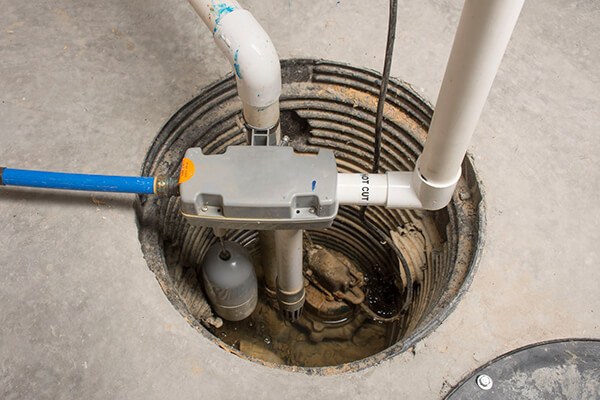 When you need someone qualified and reliable to help you with your sump pump installation or repair, Apex Plumbing, Heating, and Air Pros can dispatch one of our knowledgeable plumbers to handle the job. We offer free estimates with transparent pricing so you can work any services you need into your budget without having to worry about surprise charges.
If you find yourself in the middle of a sump pump emergency, we can do same-day service and prioritize the work you need so you aren't left to manage the problem on your own while you wait for the next available appointment. Our company prides itself on its customer-first approach and will do everything we can to make sure you're satisfied with your experience.
Our highly trained and licensed plumbers know everything there is to know about the sump pumps in Pickerington homes, making Apex Plumbing, Heating, and Air Pros the first choice for many in the community. Contact us to find out more about our sump pump services and let us know how we can help.