Water damage can get expensive quickly, so having working sump pumps in Powell, OH, basements prone to flooding is critical. If your home has a finished basement, has experienced flooding before, or is on land that either has poor drainage or is below the water table, a sump pump is a necessary tool for protecting your assets. If you already have one in place, routine maintenance and timely sump pump repair will help ensure your device is operating as it should when you need it the most.

Expert Sump Pump Installation and Repair in Powell
With proper care, a sump pump can perform for an average of 7 to 10 years. If you have a sump pump older than this, it's time to start shopping for a replacement. Whether it's a replacement or the first in your home, your sump pump installation should always be handled by a licensed professional. Any mistakes in the process can lead to a failure in performance, leaving your basement exposed to a greater probability of flooding. While your sump pump is being installed, it's a good idea to consider adding a battery backup. Storms often come with power outages, so this adds an extra layer of protection to keep your sump pump running when all the lights go out. A qualified plumber can assess your home to optimize placement and make sure the job is done right the first time.
Once your new sump pump is in place, get the most out of your investment by immediately scheduling any sump pump repair as you need it. Staying on top of simple repairs can prevent them from causing additional damage to your unit. This will extend the life of your sump pump and ensure a minor issue doesn't evolve into a much more expensive problem. This also prevents you from being forced to rely on a struggling sump pump if it's needed unexpectedly. Keeping your unit maintained and in good working order will provide you with peace of mind that it will do its job effectively when it's needed.
Here are a few indicators that it might be time to replace your current sump pump.
Rust on the pump
Loud noises or vibrations
Frequent clogging
Running in a dry pit
Reduced pump capacity
Experts in Powell Sump Pumps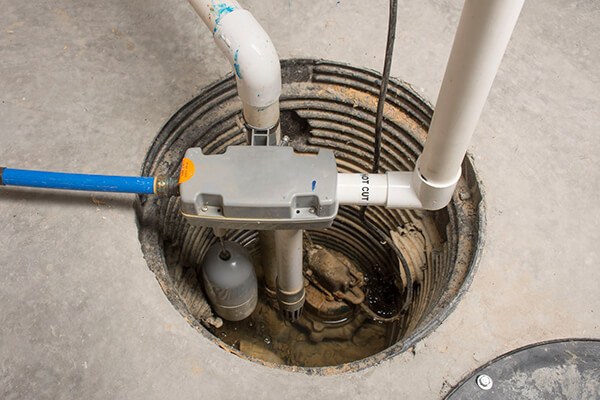 If you're looking to install a new or replacement sump pump, or you think you need to schedule a sump pump repair, our professionals at Apex Plumbing, Heating, and Air Pros are eager to earn your business. All our services include a free consultation, so there are no uncertainties about what to expect and we will always offer you the most efficient solution for your needs. We respect the value of your hard-earned money, so we'll never suggest a service you don't need and will always be upfront about our prices.
In fact, you can find discounts for many of our services, including sump pump work, online. We offer same-day service if you have an emergency and our plumbers are trained in the latest industry technologies, so any solution we suggest is based on updated knowledge of plumbing best practices.
The licensed plumbers at Apex Plumbing, Heating, and Air Pros have the training and knowledge to expertly handle the installation and repair of sump pumps in Powell homes. Give us a call today to talk about your sump pump needs and experience our 5-star satisfaction guarantee.