Want more information on tankless water heaters in Pickerington, OH? Maybe you've noticed your existing water heater making weird noises or your water isn't getting as hot as it used to. There are multiple signs it's time to upgrade your system or have a new water heater installed. A tankless hot water heater is an excellent option for a replacement unit. These systems provide a wide range of benefits and can be one of the best investments for your home.
Upgrading to Tankless Water Heaters

According to the U.S. Department of Energy, tankless hot water heaters are up to 34 percent more efficient than tank water systems. These systems ensure you have hot water ready immediately to use for showers, baths, washing dishes, and washing clothes. They are smaller than tank systems and can be installed on a wall off the floor, which makes them ideal for apartments and other smaller spaces.
Tank systems store water, which means water is allowed to stand and sediment can build up inside the tank. These sediments are expelled each time you turn on the water. Tankless water heaters don't store water in the same way, and as a result, you'll enjoy clean, sediment-free water.
Benefits of choosing a tankless water heater:
Annual cost savings
Lasts approximately twice as long as a traditional tank heater
Can be installed outside the home if inside space is limited
Deliver two to three gallons of hot water per minute
Eliminate the wait between showers
Choosing the Right Tankless Hot Water Heater
There are multiple types of tankless systems to choose from, depending on your home and your individual needs. Our trained plumbers can help you choose which system is best for your family. Systems are available in electric or gas models. Gas or propane tankless water heaters usually heat your water faster, but they are typically more expensive and require more maintenance. Electric systems are more efficient in the long run and don't require ventilation to the outside.
Tankless heaters also come in condensing and non-condensing units. Most gas units are non-condensing, and they are the most common type of unit. When switching from a tank storage system to a tankless system, these units can use the existing home ventilation. The main difference between a non-condensing unit and a condensing one is that a non-condensing unit only uses one heat exchanger, while a condensing water heater requires two. We can help you choose the best one.
Reliable Tankless Hot Water Heater Installation in Pickerington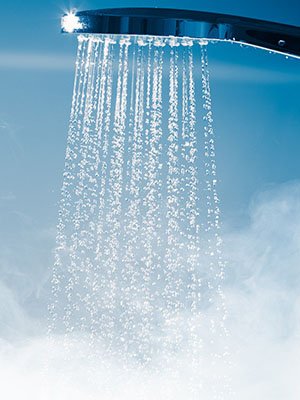 At Apex Plumbing, Heating, and Air Pros, we pride ourselves on providing 5-star service with each customer call. We stand behind each installation and service call, so if you're not completely satisfied, we'll make it right. All of our plumbers are fully trained to offer honest recommendations on the products and services that will benefit your home. Before we start any work, you'll be given an estimate and know all your options upfront, so there are no hidden costs or surprises.
If you're looking to install a new water heater in Pickerington, we can help. Our highly skilled professional plumbers are trained in the latest technologies and can answer any questions you might have. For more information on what we have to offer, contact us by phone 24/7. You can also fill out a form online, and we will get back to you as soon as possible.