Ready to upgrade to tankless water heaters in Powell, OH? Having hot water ready and waiting whenever you need it helps make your home a comfortable place to rest and relax. No need to wait between showers or switch between laundry and dishes when you have a near-endless supply of hot water available. With a tankless water heater, your hot water on demand, so you don't spend extra storing hot water, and you never run out as long as the unit is properly sized for your home and household.
Tankless water heaters are a clear upgrade over traditional, tanked units which take up more space and cost more to operate. Plus, tankless units typically last longer, making them a solid investment in comfort and savings.
Experiences Installation for Tankless Water Heaters in Powell

The tank on a hot water heater is a major point of failure for traditional heaters. It is the water storage spot, but that means that it can develop leaks that drop gallon after gallon onto the floor if the tank fails. A leaky tank is often not repairable, but none of these problems affect a tankless hot water heater. With a tankless unit installed, you can get consistent hot water, set to the temperature you prefer, all without the need to heat water when you're not using it.
Tankless hot water heaters are smaller than tanked heaters, making them ideal for installation in compact utility closets or in homes with limited storage space. Apartments or in-law suites may also be ideal residences to benefit from a tankless option since these units save so much space. In addition to their slim installation footprint, a tankless unit also offers energy efficiency upgrades, with heat pump and solar options to power your hot water.
Why are so many Powell homeowners upgrading to a tankless heater? Some of the benefits include:
Lower energy bills
More compact units that fit in smaller spaces
Hot water on demand
Lower maintenance costs
When you upgrade to a tankless hot water heater, you not only save on operational costs but also on maintenance. There's no tank to flush and fewer connections mean there are fewer systems that need maintenance. You will need to choose the flow rate carefully to ensure you never run out of hot water, but that's something the plumbing team at Apex Plumbing, Heating, and Air Pros can help with.
Fast and Reliable Tankless Hot Water Heater Installation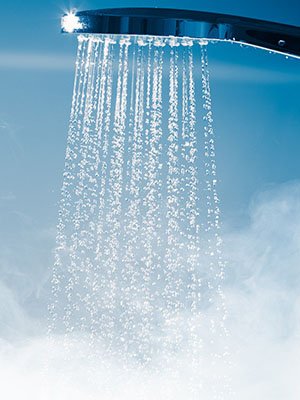 The highly-skilled and licensed plumbers at Apex Plumbing, Heating, and Air Pros deliver installation and maintenance services with meticulous attention to detail. When you need a new hot water heater, it's often an emergency, which is why we're available 24/7 to take your call and dispatch a qualified plumber. Our service comes with an upfront, no-obligation estimate, so whether we're your first call or your second opinion, it doesn't cost you to get answers about plumbing solutions. We guarantee you'll receive 5-star service, every time we handle an installation or repair for you—guaranteed! Check out our current coupons and specials to find ways to save on your plumbing upgrades or ask about our financing available on approved credit.
Tired of running out of hot water during your morning shower? Contact Apex Plumbing, Heating, and Air Pros today to schedule a tankless hot water heater installation for your Powell home.