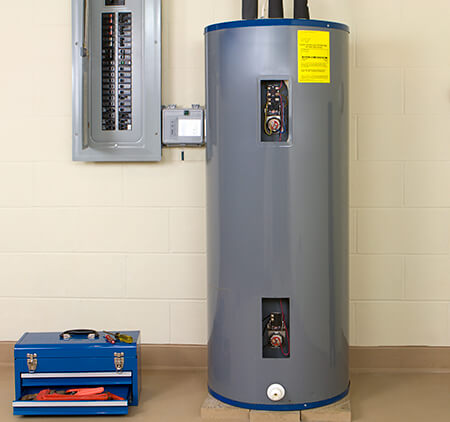 Are you looking for the best company for water heater installation in Hilliard, OH? Apex Plumbing, Heating, and Air Pros is a great choice. We are the experts when it comes to helping people choose the perfect new water heater for their home. Our plumbers install hot water systems that are efficient, reliable, and long-lasting so that you will not need constant maintenance. Contact us today to find out how you could benefit from replacing your old water heater.
Efficient Water Heater Installation in Hilliard
Water heaters become less efficient as they get older and succumb to wear and tear. It is also common for them to break down more often. While water heater repairs are sometimes possible, it is often more practical to replace a very old water heater with a new one. New water heater installation has the advantage of allowing you to choose a top-of-the-range, up-to-date, highly efficient model, which could save you money over the long term by reducing the amount of energy you use to heat water for your daily needs. Give us a call to learn about hot water systems that could be suitable for your home in Hilliard.
Look out for the following signs that your water heater is getting old and needs to be replaced.
Running out of hot water
Rust-colored water
Water heater more than 10 years old
Strange sounds coming from water heater
Leaking water or damp patches around water heater
When you need a new water heater, we can help you find one that perfectly meets your needs. For example, if you live in a small home, you might benefit from a space-saving tankless water heater. We carry both gas and electric water heaters and can advise you on which is most suitable for your situation.
Dents in your water heater? Call Apex Plumbing, Heating, and Air Pros to help you determine how they may be impacting the functionality of your system and how to fix it.
Get Your New Water Heater in Hilliard Today!
At Apex Plumbing, Heating, and Air Pros, we are proud of our water heater installation service, which has received excellent ratings. Customers benefit from our 5-star guarantee, which is our promise to you that we will not rest until you are happy with your new water heater. All our plumbers are highly skilled and experienced, so why not give Apex Plumbing, Heating, and Air Pros a call today?
If you are looking for the best Hilliard water heater installation service, you need look no further! Call us today to discuss water heater replacement.