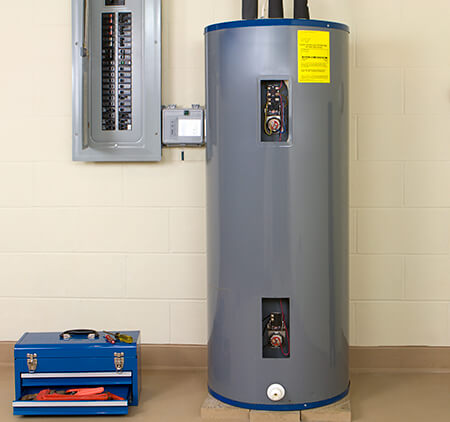 At Apex Plumbing, Heating, and Air Pros, we're experts when it comes to water heater installation in Powell, OH. We've been offering our services for years by helping homeowners to get access to a dependable and efficient hot water supply and more affordable utility bills. Whether you are looking for a replacement water heater, or you need a new water heater installed from scratch, we'll be happy to attend to your request. No matter what type of water heater you are looking for, we'll ensure yours is installed to the highest possible standard.
We carry a broad selection of heater systems, all designed to heat your water efficiently. We're here to replace the old and struggling water heaters and to tell you more about the advanced systems on the market today, like our super-efficient tankless water heaters.
Dents in your water heater? Call Apex Plumbing, Heating, and Air Pros to help you determine how they may be impacting the functionality of your system and how to fix it.
Trustworthy Water Heater Installation in Powell
Apex Plumbing, Heating, and Air Pros excels in water heater installation in Powell. When you turn on your hot tap, you want to be sure that your hot water will flow through in a matter of seconds. No availability of hot water can really disrupt the morning routine, especially in a busy family home. If you're in need of water installation in Powell, we'd love to help you choose a brand-new system that gives you years of dependable performance. Whether you are considering a new water heater with tankless capabilities or you're looking to install a water heater where none has existed before, we'll size up your home and recommend the perfect solution.
4 reasons why you might want to consider water heater installation:
Get hot water on demand
Reduced energy costs
Compact design and fit
Never run out of hot water
Get A New Water Heater in Powell Today!
At Apex Plumbing, Heating, and Air Pros, we call ourselves 'The Home of the Pros' and with good reason. All of our team members are trained to the highest standard and have years of experience in water heater installation. From helping you to choose the perfect system for your home to install your water heater, we'll be with you every step of the way. Our team will never leave you in the dark, hit you with hidden costs, or sell you something you don't need. We'll ensure you get the best out of your new water heater for many years. We can also assist you with water heater repairs and maintenance, so just call us if these are services that we can help you with.
Call our team at Apex Plumbing, Heating, and Air Pros to discover what a difference water heater installation in Powell can make to your comfort. We're ready to provide you with our recommendations and a quote today.