Ever since we opened our doors, we've been market leaders when it comes to water heater installation in Lancaster, OH. We know how important water heaters are, so we're always quick and reliable with our water heater replacement service. No matter if you're experiencing problems with your current water heater or simply looking to upgrade to a newer model, we'll make sure you're able to enjoy the comfort of a warm home and consistently hot water in no time.
Dents in your water heater? Call Apex Plumbing, Heating, and Air Pros to help you determine how they may be impacting the functionality of your system and how to fix it.
Afforable Water Heater Installation in Lancaster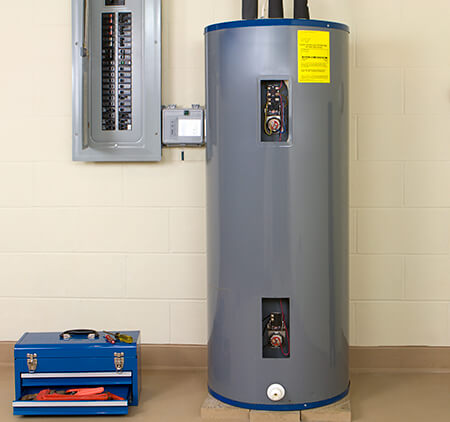 Families all over the country rely on water heaters to keep them warm during the colder months, as well as to provide them with warm water. Given how important those things are to maintaining a reasonable standard of living, having a broken or malfunctioning water heater constitutes an emergency. In these cases, homeowners need to get a water heater installation service as soon as possible in order to be able to return to their daily lives. However, a water heater replacement may be a great option even for those who aren't experiencing issues. A newer model may have increased hot water capacity, thus allowing you to take longer showers or multiple baths. It may also reduce energy consumption and most importantly, it's much less likely than an older model to break down and need to be repaired.
Do you need a water heater replacement? Some signs to look out for include:
Unusual noises
Inconsistent water temperature
Accumulating rust
Not enough hot water
Reliable and Professional Water Heater Replacement in Lancaster
Apex Plumbing, Heating, and Air Pros has built ourselves an excellent reputation in our local community due to our unwavering commitment to excelling at our work while maintaining fair and competitive pricing. We're firm believers in transparency so we always do our absolute best to help our customers make an informed decision regarding the services we offer. We always present all available service options and take the time to educate our customers because we believe in fostering long-term relationships with them. Our high standards extend to our team members — they're all licensed, talented and passionate about their field of work. They also always seek to build upon their skills and get training in new techniques and technological developments.
Ready to book your water heater installation and replacement in Lancaster? Give Apex Plumbing, Heating, and Air Pros a call, or use our scheduling feature to book a service or to get a free consultation!