At Apex Plumbing, Heating, and Air Pros, we provide the most efficient water heater repair in Columbus, OH.
We are experienced in diagnosing and fixing all types of water heater issues, from small to serious faults. Once we inspect the issue and determine the course of action, you can count on us to execute a safe and reliable water heater service whether you have a gas or electric water heater. We also service tankless water heaters! Best of all, we're available 24/7 for water heater emergencies.
24/7 Emergency Water Heater Repair in Columbus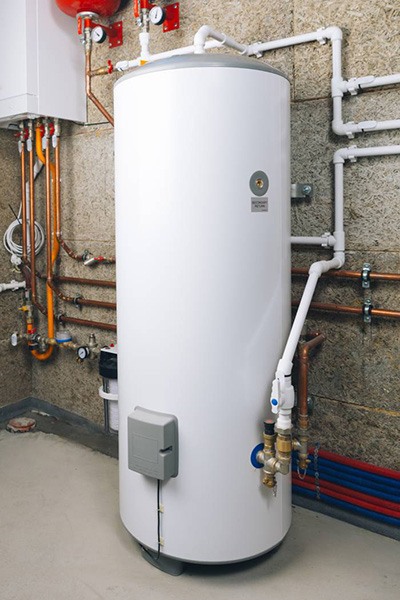 A hot shower is something we often take for granted until something goes wrong with your water heater. Water heaters can give trouble for a number of reasons – from small leakages to damaged components. With temperatures plummeting in winter, hot water is an essential need for every home, which is why getting your water heater repaired is so crucial.
A damaged water heater may also have to work harder to provide warm water to your home, which can push up your energy bills. Getting your water heater repaired not only ensures that it runs at maximum efficiency but it can also keep your running costs down.
We are proud to be regarded as one of the most trusted water heater repair businesses in Columbus, bolstered by our reputation for providing honest and reliable service at industry competitive prices. We arrive at your doorstep quickly and can diagnose all types of issues without any delay, ensuring the problem is fixed as soon as possible.
Our plumbers will always perform a thorough inspection of the water tank so that we can pinpoint the exact source of the problem. Where necessary, we may even recommend replacement with a newer, more efficient water heater model to prevent any major issues (and energy bills) down the track.
Water Heater Repair Services We Provide Include:
Thermostat repair and replacement
Leak repair
Pipe fixes
Pressure relief valve repair
Part replacement or repair
Repairing or replacing damaged gaskets
Tightening heating element bolts
Leaking water tank repairs
Our plumbers have many years of combined experience and have seen it all! No matter what make, model, or style of water heater you have, we can fix it.
Common Reasons for Water Heater Repairs
The lifetime expectancy of a water heater is 10-15 years old. Water leaks are the most common type of water heater issue we see. Any water heater will start to leak eventually, and water will eventually corrode your tank and create cracks, leading to a leaky water heater. Once you hear a rumbling, disturbing noise, you should consider calling our water heater service team to come and check out your water heater.
Signs You May Need a Water Heater Repair:
Takes a Long Time to Produce Warm Water
Loose or Damaged In-Line Valve
Damaged Pressure Relief Valve
Lack of Warm Water
Water is Too Warm or Cold
Low Water Pressure
Discolored Water
It should not take longer than a couple of minutes to receive warm water. If your water takes a long time to heat up, this could be an indicator of a water heater repair. It is never a good sign when your water heater starts leaking, a loose in-line valve can cause a leaking water heater. Most water heaters have a pressure relief valve that is designed to release pressure from the water tank when it becomes too high. If this becomes damaged, your water heater may start leaking.
Once your water heater begins to malfunction, you will have little to no hot water to use for showering, cleaning, and laundry. There could be a few reasons why you are not receiving hot water. If your water feels uncomfortable hot or cold, our team can adjust the temperature of your water by changing the settings on your thermostat. Having low water pressure can result in unclean dishes and laundry, and issues running multiple faucets at the same time. The water in your home should always be clear. If you notice your water becoming discolored, give us a call immediately, as it may be time for a water heater repair.
When is My Water Heater Repair an Emergency?
Not sure when your water heater problem is an emergency and when it can wait? No problem! We're glad to explain. In some cases, a water heater problem can wait until the next day. However, you won't want to wait if there is a major water leak. Leaking water from your water heater can result in lots and lots of damage that increases over time. Water damage can affect furniture, upholstery, carpeting/flooring, and even the structural foundation of your home. Mold and other lasting effects of water damage are no fun to deal with - not to mention expensive! If your water heater is leaking water, that's a time you'd want to call us right away.
The other time you'd definitely want to call us immediately for our 24/7 emergency water heater service here in Columbus is if the water is too hot. Having a lack of hot water is uncomfortable, but water that comes out scalding hot can be an actual danger.
How Do Water Heaters Work?
Your traditional tank-style water heater isn't really that complex! It's essentially just a tank that stores heated water, and acts as a delivery source for hot water to different appliances and faucets throughout your home. There are different types of water heaters that use a range of methods to heat the water. These include electric, oil, natural gas, and even geothermal energy. Still, the result is the same. Water is heated up and stored in the tank until it's ready for use!
Of course, there are plenty of internal mechanisms and parts that make your water heater highly efficient and effective at its job. These parts and design are why you'll want to employ the assistance of a professional plumber when you need water heater service. At Apex Plumbing, Heating, and Air Pros, we're familiar with all designs and types of water heaters. That means that no matter what type of water heater you own, we can fix it!
The 8 main parts of a traditional water heater:
Tank: stores hot water
Thermostat: regulates temperature
Burner/heating element: heats up the water to be stored for use
Shutoff valve: stops water from exiting the water heater
Electrical wiring
Drain
Temperature and pressure valve (T&P valve): trips when temperature or pressure is too high to drain water
Cold inlet pipe: pushes hot water to the top of the tank to be used first
All of these components work in tandem to ensure your water heater is working properly. Some components act as failsafe such as the T&P valve, which drains water when pressure or temperature exceed that which is acceptable. At Apex Plumbing, Heating, and Air Pros, we are highly experienced with all of these parts and will be able to assess and damage or malfunction that has occurred.
If you suspect something isn't quite right with your water heater, simply reach out to us today! We can schedule a service call at your convenience if it's not urgent, or get to you right away with our 24/7 emergency water heater service here in Columbus.
The Factors That Affect Your Water Heater's Temperature Control
How does your water heater know how hot to make things, and what is happening when you water isn't the right temperature? There are a few factors to consider here. Firstly, it's important to note that you shouldn't set your water heater to an unsafe temperature. There are different recommendations from agencies such as the CDC and OSHA, but the general consensus is that between 120 and 140 degrees Farenheit is a safe range. Too low, and you run the risk of unsafe bacteria and organisms growing. Too high, and you've got a burn risk waiting to happen.
Most water heaters have some type of panel with at least one thermostat that adjust the temperature. If your water isn't coming out as hot as you'd like, it's taking too long to heat up, or there's just no hot water at all, there are a handful of things at play. The temperature outside can affect how much energy needs to be used to heat up the cold water in your pipes. Even the distance of the source calling for hot water in your home (i.e. a shower or kitchen faucet) from your water heater is a factor. The longer the distance, the more time the water has to cool off.
If the heating mechanism is faulty, your water heater won't be able to deliver hot water. Likewise, a faulty thermostat will prevent the water heater from accurately regulating the temperature of the water. In most cases, you'll want to have a professional water heater expert examine the system to safely determine the cause of the problem. Simply cranking up the thermostat isn't the solution!
Factors that affect water heater temperature control:
Water heater thermostat
Heating mechanism functionality
Distance of pipes hot water is traveling through
Outside/inside pipe temperatures
If you aren't getting enough hot water or your water isn't as hot as you'd like, that's a good conversation to have with one of our Apex Plumbing, Heating and Air Pros. It could be that your current water heater isn't performing as it should as the result of age or a repair that is needed. Or maybe you've added more residents into your home and a bigger tanked model is needed.
We'd be happy to take a look at your current water heater and give our honest professional opinion. In some cases, it could be as simple as a quick repair and scheduling some ongoing maintenance. In other cases, taking a look at newer water heater models! In addition to traditional tank-style models, we also carry and install tankless water heaters. These are a great option because of their small size, high energy efficiency ratings, and virtually limitless and on-demand hot water.
Dents in your water heater? Call Apex Plumbing, Heating, and Air Pros to help you determine how they may be impacting the functionality of your system and how to fix it.
How to Prevent Water Heater Emergencies
While our expert plumbers are available 24/7 to handle your Columbus water heater emergencies, we want to help you prevent repairs altogether! The first step is simply to be proactive about maintaining your water heater. That means scheduling professional maintenance at least once a year.
Most water heaters should be drained annually to get rid of the sediment buildup that collects at the bottom of your water heater tank. This sediment can cause a range of problems including frequent water temperature fluctuation, loud noises, and even no hot water at all. During maintenance, a water heater expert will also examine the various valves and components of the water heater.
One important thing to inspect in an electric water heater is the anode rod. This metal rod protects the tank by attracting and collecting minerals and sediment. Over time, it will go bad and can cause rust in your water, rotten egg smells from sulfur buildup, and affect the hot water production of the system.
Checking the different valves and electrical connections is another important step in prevent water heater emergencies. Ensuring that valves are functional and not too tight or too loose is integral. Faulty electrical wiring is another common culprit in water heater issues, so it's good to have that inspected routinely as well.
Why Choose Us for your Columbus Water Heater Needs?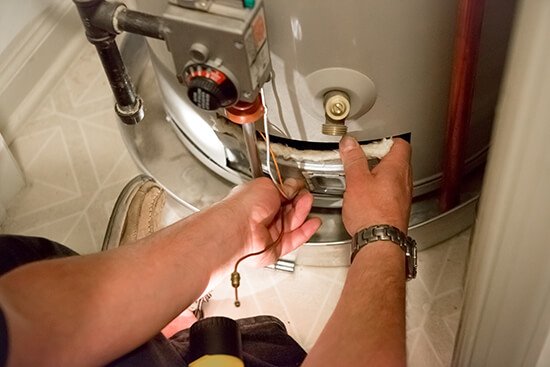 The experts at Apex Plumbing, Heating, and Air Pros are skilled and trained to handle your water heater repair in Columbus. Regardless of your water heater brand, we are able to quickly diagnose and fix the issue to restore its full functionality with minimal inconvenience to you and your family. We are trusted for our exceptional services, quick turnaround times and competitive pricing.
From 24/7 emergency water heater repair to routinely scheduled service, your residential hot water needs are in great hands with our reputable team!
We also repair water heaters in:
If you're looking for reliable and trusted water heater service in Columbus that can diagnose and repair any issue efficiently, contact our expert team at Apex Plumbing, Heating, and Air Pros today.