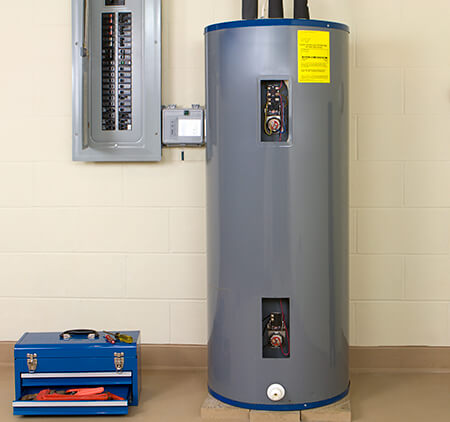 If you often find that your home in Dublin, OH runs out of hot water, then it might be time to consider water heater replacement. Water heaters typically have a lifespan of about 10 years. If your water heater has reached, or is about to reach, that age then it is possible that you need a new one. Apex Plumbing Pros provides a personalized and professional water heater installation service that can get your home fitted up with a reliable, efficient, and up-to-date water heater.
Reliable Water Heater Installation in Dublin
The purpose of a water heater is to deliver hot water when you need to use it to wash, bathe, shower, or clean. Water heaters can use electricity or gas to heat the water. Some heat water in advance and store it in a tank until you are ready to use it, while others use a tankless system that provides hot water on demand. When you contact us to ask about our water heater replacement service, we can talk you through the various options and help you find a new water heater that is the perfect fit for your Dublin home.
Look out for the following signs that your water heater is failing and will soon need to be replaced:

Leaking water heater
More than 10 years old
Insufficient or unreliable supply of hot water
Unusually noisy water heater
Hot water is rust-colored
When a water heater becomes very old, rust can begin to develop inside the tank. Rust affects the appearance and mineral content of your hot water. Over time, a rusty patch can develop into a leak, which could cause water damage in your home if you do not spot it quickly. If your water heater is leaking or affected by rust, then it is time to consider water heater replacement. Our service can supply and fit an efficient new water heater that can act as a reliable source of hot water for your home.
Efficient Water Heater Installation Service
Apex Plumbing Pros takes the time to listen to the needs of every customer to ensure that everyone ends up with a new water heater that meets their needs. Our plumbers are highly skilled when it comes to water heater installation. Our 5-star guarantee offers you peace of mind, as you can be sure that if you have a problem with your replacement water heater, we will do whatever it takes to put it right. Contact Apex Plumbing Pros today to ask about our water heater replacement service and we will talk you through your options.
Do you need a water heater replacement for your home in Dublin? Reach out to our team today!