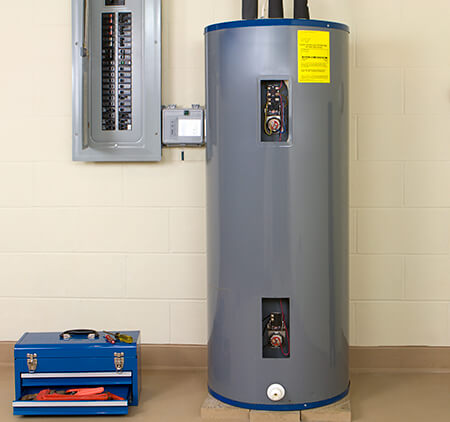 Whether your water heater has started to fail, or you want to upgrade to a newer, more efficient model, there are lots of great options for your Westerville, OH home. Slim, tall units fit in unexpected spaces, while tankless models offer hot water as needed and save on energy and space. If you are dealing with constantly running out of hot water, an aging water heater, or a leaky unit, it might be time for a water heater replacement. At Apex Plumbing, Heating, and Air Pros, installing a new water heater is a quick, transparent process.
Expert Water Heater Replacement in Westerville
There are lots of reasons to schedule water heater replacement. A smaller tank could mean you run out of hot water at inconvenient times. Older units tend to use more energy to heat the same amount of water. A new water heater can deliver gallons of hot water at a fraction of the run cost of a unit approaching the end of its usable life.
Some of the best reasons to install a new water heater include:
Lower costs on utility bills
Less likely to run out of hot water
Avoiding sediment from the tank
An aging unit that could start leaking
Space saving options
Opting for a tankless water heater can fix many of these issues. Not only are these units some of the most energy-efficient, but they can also provide a nearly endless supply of hot water. Alternatively, you might opt for a larger, traditional water heater with a larger tank. The more hot water the unit can store, the less likely you will run out of hot water. However, keep in mind that larger tanks cost more to stay warm.
Dents in your water heater? Call Apex Plumbing, Heating, and Air Pros to help you determine how they may be impacting the functionality of your system and how to fix it.
Top Team for New Water Heater Installation
At Apex Plumbing, Heating, and Air Pros, we handle all types of water heater replacement. Whether you want to install a much larger unit, a slim tank to fit into an unusual space, or a tankless system, our expert plumbers work to exceed your expectations. Your 5-star satisfaction guarantee backs every job we do, so you can have peace of mind when we clean up after the work is done. We know that your plumbing does not give you a notification before it fails, which is why we offer 24/7 emergency service and free estimates.
If you need a water heater replacement today, give us a call. Our team of friendly and experienced plumbers is ready to get your hot water flowing.