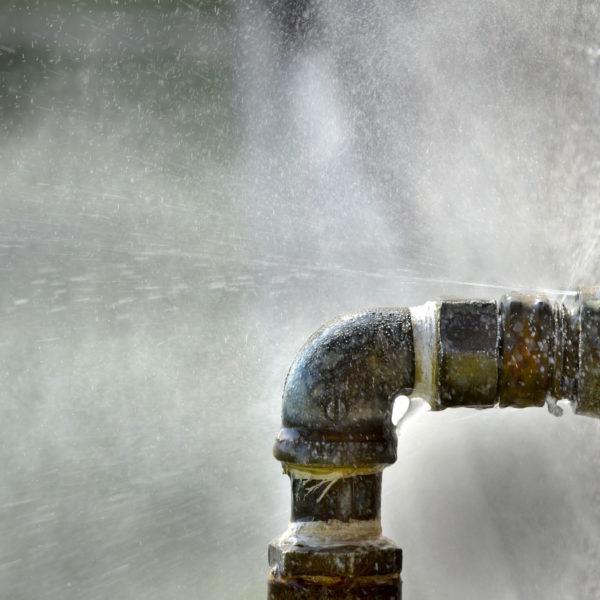 Leaks can be a nightmare, especially if you do not know their source. If a pipe leaks for too long, it may cause structural damage to your home, making you incur many repair costs. Our plumbers at Apex Plumbing always recommend calling for urgent repairs as soon as you notice a leak. However, we know that this is not always possible, especially when dealing with hidden pipes. We have gathered five ways to help you identify leaky pipes as early as possible. This way, you can avoid a future pipe burst or corrosion, which requires replacement.
Wet Patches
Consistent leaking at one point causes a pool of water to accumulate, especially if the surface is not slanted. Therefore, if you have some pipes beneath the floor, you will notice wet patches on the slabs or flooring. The wooden floor will absorb the water with time until it shows on the top surface. If you have a carpeted floor, the wetness may spread to the carpet and cause mildew over time. The musty smell will definitely catch your attention if you don't feel the sogginess.
If the pipes are on the walls, you may start seeing the paint peel or notice the wet patches along the length of the line. If this continues for a long time, the wood may warp or rot due to excessive moisture.
Leaky drain pipes also cause soggy patches on your lawn and flooding if the leak extends to a pipe burst. If you do not have a green lawn, you may identify the leaky line with a specific portion looking greener or wetter than all the others. In this case, you can contact our local experts to help you seal the leaks permanently.
Increased Water Bill
The more you stay in your home, the easier it is to estimate the amount of water you use monthly. Therefore, if you notice an ever-increasing water bill, you will know that something is amiss. The first step should be to go to the meter regularly and check your usage.
Thanks to technology, modern water meters can detect a leak if your readings start going above your normal range. The meter will indicate to you that there is a possible leak that is causing an increase in your bill. The only disadvantage with this is that the meter cannot tell you the exact source of the leak. You have to involve your trusted plumber to help inspect your plumbing system and seal any holes.
Awful Smells
No matter how much water you use in a day, you should not have rooms smelling musty all day. The foul odor is a tell-tale sign that you have a pipe leaking in your home. Constant leaks onto wood and other surfaces make the places damp and produce a musty smell due to mold growth. You can notice these smells in the bathroom, toilet, kitchen, attic, and basement.
Please do not ignore the smell as it is a sign that you need to take care of the leak immediately. Apart from the leak damaging your property, the smell is dangerous to your lungs and may even cause some respiratory problems. Additionally, it also makes the home's air uncomfortable, reducing the quality of life in your home.
Foundation Cracks
Foundation cracks happen all the time and may not necessarily be due to leaking pipes. However, if you notice a new crack on your foundation or a widening one, you need to think fast and know if there is a pipe running near that location. Leakages make the foundation get weaker day by day and thus result in cracks in your home.
These cracks may advance to the walls and windows, causing them to become weak or torn apart in the worst-case scenario. Therefore, when you notice this crack and suspect a leaky pipe on that spot, contact our Apex Plumbing, Heating, and Air Pros immediately, and we can get to the root of the problem. In the meantime, we can also offer viable solutions that may help you mitigate the situation as you wait for us to arrive.
If you do not take care of this situation early enough, you may require more repairs and replacements when the structural strength gets compromised. This may become very risky, even for the home's residents.
Constant Dripping Sound
The moment you hear any abnormal sounds produced by your plumbing, you need to take action immediately. If you want to know if you have a leaky pipe, wait until the house is quiet and listen to any signs of dripping water. This technique can work if the water drips onto a hard surface like metal, which can produce some sound on impact.
However, you need to ensure that you have closed all faucets and that no water facility is currently in use. When you follow the sound produced, you may quickly identify the leaking pipe. This dripping sound may also help you arrest a leak before it goes too far, especially on wood. You can easily hear the water hitting the surface when the wood is still hard. However, if the spot becomes soggy and soft, you may only notice the warping or wet patch.
The formula also may not effectively work for outdoor underground pipes since the ground is soft and absorbs all the moisture. Nevertheless, if you have a pipe above the surface, you will notice the pool of water over time that gathers at the specific spot.
What Should You Do When You Notice a Leak?
It is very unhealthy to leave a leaky pipe running for many days. You may find yourself with a bigger mess to deal with and more expenses to pay. Whenever you notice any of the above, the first step should be to turn off the water to prevent further damage. Then contact our professional plumbers at Apex Plumbing, Heating, and Air Pros to come and sort the issue. We come with all the necessary tools to identify the leaky pipe and repair it.
Depending on the amount of damage to the pipe, we may decide to seal the hole or replace the line to ensure you don't get any more leaks soon. We will perform a test run after completing the work to ensure everything works perfectly.
Don't Ignore Plumbing Issues
Do not ignore any signs of plumbing issues in your home. Work with professionals who can help permanently solve the problem and give you a peaceful stay in your house. Our Apex Plumbing experts also discourage DIY fixing since it may only provide a temporary solution or cause more problems to your plumbing.
We advocate leaving the plumbing repairs to our trained experts who guarantee ultimate solutions to all your plumbing needs. Our team of plumbers serves Columbus, OH, and the surrounding areas and has all the necessary qualifications to identify, repair, and maintain all plumbing issues in your home. Our plumbing services include water heater replacement, gas leak detection, repiping, toilet repair, slab leak repair and much more!
We can also provide drain cleaning, drain repair, hydro-jetting, water leak detection and repair. Our sewer and excavation services include backflow testing and repair, sewer repair, septic tanks, and excavation. Visit our website for full details on all our services and specials! Contact us today or schedule your appointment online and let the Apex Plumbing, Heating, and Air Pros fix all your plumbing issues!