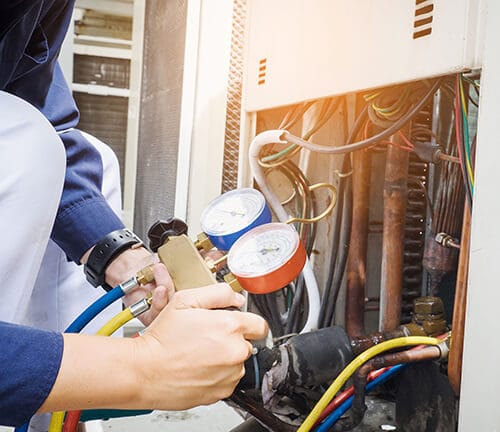 If you're in need of AC repair in Grove City, OH, speak to Apex Plumbing, Heating, and Air Pros today. We have been providing expert AC service for years and we'd be delighted to help you today with any AC problem you are experiencing. Whether you've discovered your AC has a leak or there is warm air instead of cool coming through your vents, it's time to take some action. These problems can get worse if they are not dealt with quickly and this could cost you more money. The good news is that most AC issues can be repaired within an hour, so we'll be out of your hair as quickly as possible. That means you can get back to your normal routine in a cool and comfortable home. No matter which AC system you have, we will find a fix that lasts and which ensures dependable performance from your system going forward.
Call the friendly and helpful team at Apex Plumbing, Heating, and Air Pros today and discover why we're number one for AC repair throughout the area.
First For AC Repair in Grove City
When you have an AC problem, the temperature can creep up in your home very quickly. Call us before you start to get really hot and uncomfortable. On those hot summer days when you need respite from the heat, your AC provides dependable cooling. But when it's not working, it can be so inconvenient. That's where our expertise in AC repair in Grove City comes in. You can call us day or night and we'll have one of our professional and experienced technicians to your door as quickly as we can. We arrive ready to start work without delay. We know that you have things to do and your time is always very precious to us. We'll work quickly and professionally and ensure you are always kept up to speed. At all times, we'll respect your home, covering furniture or carpets as necessary. Our technicians are always in smart uniforms and are friendly and courteous to the last. So, when you need an AC service that you can trust, speak to our team. We're always on the end of the phone and would be delighted to arrange an appointment for air conditioner repair today.
Call us for AC repair if you're experiencing:
Warm spots around the home
Weak or no airflow
Strange sounds or smells
No response to thermostat input
Grove City's Best AC Service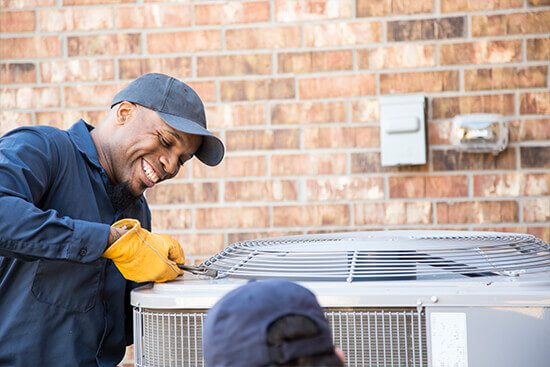 At Apex Plumbing, Heating, and Air Pros, we're proud to be "The Home of the Pros" and a BBB-accredited business. We've been providing dependable AC repair in Grove City for years and we'd be happy to extend our services to you today. Over the years, we have helped countless customers with our AC service. Whether you are arranging AC repairs with us for the first time or you're a repeat customer, you can always count on us to treat you as a top priority. We'll always aim to get to you on the same day and we're often with our customers within the hour. We have vehicles in your area at all times, so a quick call to our office team is all it takes to get a technician over to your home. Because we have years of experience, we will get to the root of the problem fast so that you can get back to your normal routine without feeling hot under the collar. Our AC service also includes AC installation and maintenance, so give us a call if you need help in these areas. We'd be delighted to help you.
To arrange AC repair in Grove City with a team you can trust, speak to the team here at Apex Plumbing, Heating, and Air Pros today. We're here for you night or day to get your AC system repaired and working perfectly.