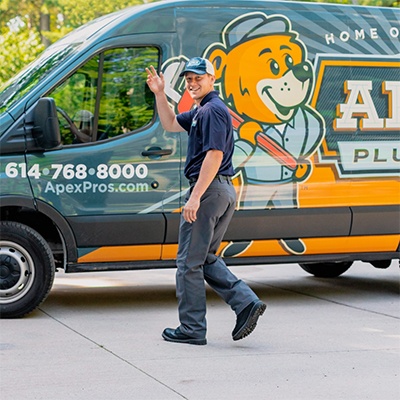 Here at Apex Plumbing, Heating, and Air Pros, we cover all types of heating and cooling in Grove City, OH. Our services encompass repair, installation and preventative maintenance to offer a comprehensive solution to all your heating and cooling needs. We make the decision even easier for you by offering some of the most competitive rates in the industry. Our team will provide peace of mind knowing you're in the hands of trusted professionals without having to pay a fortune. Whether you need a new furnace or heat pump or repair your mini-split or thermostat, we'll do a stellar job of maintaining comfortable temperatures in your home in summer and winter.
Experienced HVAC Solutions in Grove City
At Apex Plumbing, Heating, and Air Pros, we have repaired all types of heating and cooling units over the years. Whether your thermostat needs replacement, ductwork changed or your humidifier or dehumidifier fixed, we will carry out the job safely and effectively.
Our HVAC services include:
Electric furnaces
Gas furnaces
Heat pumps
IAQ testing
Humidifiers
Dehumidifiers
Air purifiers
UV lights
Air scrubbers
Air balancing
Zoning systems
Thermostats
Ductwork
Our technicians have repaired HVAC systems for hundreds of properties already, which means we know what to look for and how to get the job done with the least disturbance to you and your family.
Looking for more than HVAC in Grove City? Apex Plumbing, Heating, and Air Pros can also handle your plumbing services, too!
Quality Heating and Cooling Installations
Our professional team will do a quality installation job for gas furnaces, electric furnaces, split air conditioners and ducted air conditioners. We work with some of the best brands on the market and will first inspect your property to help you determine the best possible size and option for the space. Instead of trying to upsell, we are honest and upfront with our advice and will tell you what you need. It is one of the reasons why we are popular with residents in Grove City and have a high number of repeat and referral clients.
Heating and Cooling Maintenance Across Grove City
Maintenance is the key step to elongating the life of your heating and cooling unit. Without preventative maintenance, a number of unexpected problems can crop up, resulting in a premature breakdown of your system. Through regular maintenance and servicing schedules, our technicians will inspect the indoor and outdoor units, check thermostats, test components, tighten loose connections and much more. These measures reduce the risk of something going wrong and help your system function as optimally and energy efficient as possible.
For trusted and reliable heating and cooling in Grove City, contact us at Apex Plumbing, Heating, and Air Pros today.