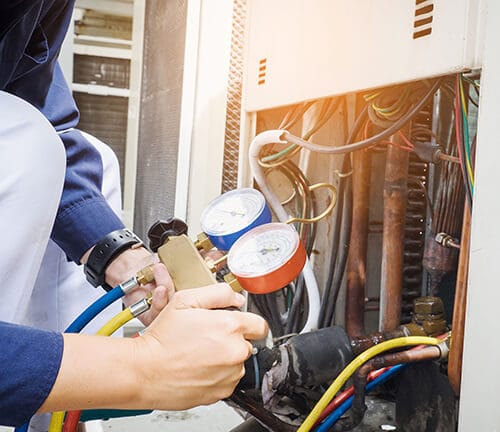 When it comes to delivering dependable and professional AC repair in Reynoldsburg, OH, the team at Apex Plumbing, Heating, and Air Pros will save the day. We're experts in HVAC repair and we're standing by ready to help you today with any aspect of repairs or maintenance. When AC faults strike, they can either take your entire system down or they can cause annoying problems like leaks and loud noises. Whatever the problem, our technicians will take care of it. We know how inconvenient and uncomfortable a home with no cooling can be. That's why we'll get to you fast to resolve the issue as quickly as we can. Because we have years of experience in HVAC repair, we know the common (and not-so-common) reasons why these systems fail. From failing components to dirty evaporator coils, we will find the issue and get to work on fixing it. Our customers trust us to provide them with dependable and prompt service and we're here to help you when you need us the most. Call our team today to arrange an appointment.
Best, Local AC Repair in Reynoldsburg
A faulty AC system can also cause your system to work less efficiently. This can push up your energy costs as well as repair costs. No matter what the age of your system, whether it's new or old, we specialize in repairs of the highest possible standard. We always ensure we have a good stock of spare parts on our trucks so that we can carry out repairs on the spot. That means we'll take up as little of your time as possible and let you get back to your day. We'll also give you a firm ETA so that you know exactly when to expect us. This attention to detail is just one of the reasons why our customers come to us and why so many come back time and time again. Don't let the heat ruin your day because of a faulty AC system. Call us for HVAC repair and experience the perfect combination of great service and fair prices. We'll always give you an upfront cost before we start any work and ensure you are happy with everything we plan to do. Get the very best for your AC system.
Call us for AC repair if you're experiencing:
Warm spots around the home
Weak or no airflow
Strange sounds or smells
No response to thermostat input
Your Experts for HVAC Repair in Reynoldsburg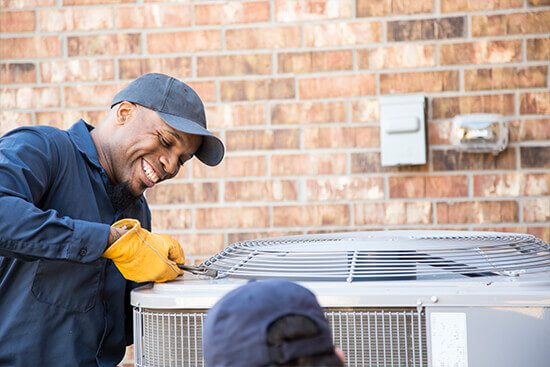 For homeowners in Reynoldsburg, there's only one company to call when it comes to arranging AC repair. Apex Plumbing, Heating, and Air Pros knows all there is to know about repairing cooling problems and will ensure you are delighted with the service you receive. Over the years, we've helped many customers with their AC problems and we're standing by ready to help you today. We're proud to call ourselves "The Home of the Pros" but it's a slogan that's also backed by our many five-star reviews, our BBB accreditation, and the repeat business we receive.
We always deliver professional service and we won't be happy until your system is working perfectly once more. From weak airflow and leaks to strange sounds and dirty components, we know how to fix the problems that can take your system down. We can also help you with AC installation and maintenance and can provide you with more details on request. You'll always be our first priority when it comes to your comfort and we're standing by ready to help you today.
Call the friendly team here at Apex Plumbing, Heating, and Air Pros to discover why we're a leading name for AC repair in Reynoldsburg. We'll always ensure you get the best service and will have your AC system up and running again before you know it.