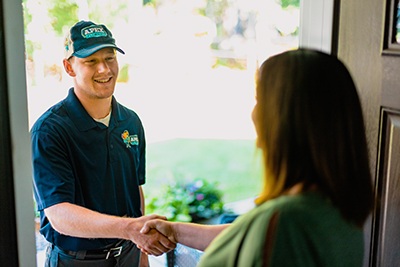 At Apex Plumbing, Heating, and Air Pros, we have you covered when it comes to your heating and air conditioning in Reynoldsburg, OH. Our area has warm, humid summers and really cold winters. Reliable comfort is essential. We're the "Home of the Pros," serving our area customers with unmatched HVAC services. Over 7,000 great reviews and many awards for technical skill and customer service proficiency along with free estimates and indoor air quality expertise make us your best choice for indoor comfort in Reynoldsburg.
Heating and Air Conditioning Repair in Reynoldsburg
Did you know that timely repairs help prolong the service life of your HVAC equipment by reducing wear? Our heating and air conditioning repair team arrives prepared to diagnose quickly and repair effectively, usually with parts on hand in our vehicles. We're ready for emergencies around the clock, repairing all makes and models of gas and electric furnaces, central AC, heat pumps, and mini-splits.
Our HVAC services include:
IAQ testing
Humidifiers
Dehumidifiers
Air purifiers
UV lights
Air scrubbers
Air balancing
Zoning systems
Thermostats
Ductwork
Looking for more than HVAC services in Reynoldsburg? Apex Plumbing, Heating, and Air Pros also offers comprehensive plumbing services!
Efficient Heating and Air Conditioning Installation
When your current equipment requires too many repairs, can't keep you comfortable, or is running up your energy bill, Apex Plumbing, Heating, and Air Pros can help with the latest energy-efficient equipment. Our furnaces, air conditioners, and heat pumps are designed for better performance and efficiency. We also have advanced models that adjust their energy use carefully for significantly better energy efficiency than your current model. We'll provide installation in a timely fashion with minimum impact on your family.
Professional HVAC Services and Maintenance
Maintenance is at the heart of the HVAC services we provide because it helps your heating and AC equipment work harder and last longer. Maintenance also allows us to inspect the system thoroughly and identify any developing repair needs before they become urgent. We provide thorough cleaning for efficiency and health, plus tune-ups and safety checks. We'll also check your thermostat, perform air balancing to eliminate hot and cold spots and inspect your ductwork for leaks. Our IAQ testing identifies contaminants being transported by your home's airflow.
Count on our team at Apex Plumbing, Heating, and Air Pros for all your heating and air conditioning in Reynoldsburg. Call today!