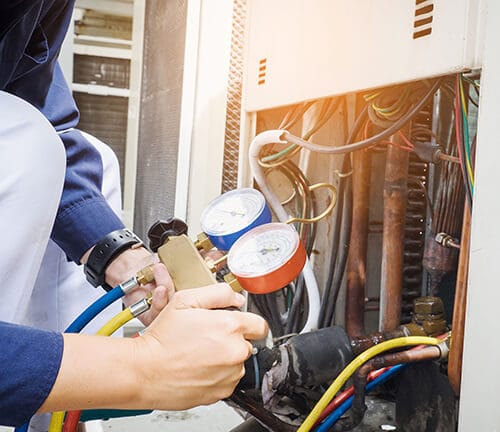 When temperatures rise and your AC unit simply can't keep up, turn to Apex Plumbing, Heating, and Air Pros for your air conditioner repair in Dublin, OH. Coming home to an overheated house after a hard day at work has the potential to ruin your day when your unit needs some extra help. Fortunately, our highly trained technicians know all the common reasons you may need AC repair and work hard to get your home cool again quickly.
Professional Air Conditioner Repair in Dublin
Schedule service with Apex Plumbing, Heating, and Air Pros when you need the best air conditioner repair services in Dublin. Even if your AC unit hasn't shown signs of mechanical failure, you may notice it's working harder to deliver the same cool air just by looking at your energy costs. Other signs of impending failure include noises like clanking, hissing, and humming or a unit that sounds as if it's having problems powering on or off per usual. Moisture near your system may also point to the need for air conditioner repair due to leaks and potential damage to the foundation of your home.
Aside from not cooling properly, some HVAC issues present in other unpleasant ways. For example, your home may feel more humid than usual or you may smell odd or bad odors coming from the unit. Likewise, moisture issues within the unit itself may also cause asthma or allergy symptoms to arise abnormally, pointing to the need for potential AC repair. Also, broken or old thermostats may prevent proper air regulation, spurring the need for replacement. If we can't fix your unit, we also provide installation for new units, with flexible financing on approved credit.
Some common problems that make air conditioner repairs necessary include:
Low refrigerant that needs recharging and line leaks traced down
Condenser coils covered in dirt and grime impeding heat transfer
Frozen evaporator coils caused by improper air circulation
Breaks or holes in ductwork letting cold air leak during AC use
Fans with failing motors, worn belts, dirt and debris, or poor lubrication
Incorrectly calibrated thermostats or those with mechanical problems
Backed-up water damage to the HVAC unit due to clogged drains or lines
Dirty and clogged air filters that prevent cold air from flowing freely
Best AC Repair in Dublin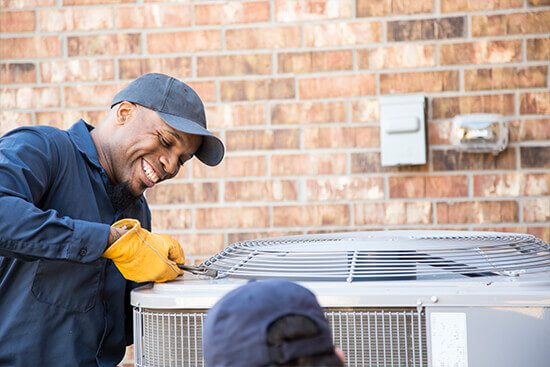 While regular maintenance can help you make the most of your HVAC unit's 10 to 20-year lifespan, the skilled technicians at Apex Plumbing, Heating, and Air Pros provide the best AC repair when things go wrong. Our 5-star satisfaction guarantee demonstrates to all our customers and works hard to ensure we earn your trust and future business. Likewise, our technicians are friendly, and knowledgeable and respect your home while performing your air conditioner repair.
Whether you call us first or want a second opinion, Apex Plumbing, Heating, and Air Pros offers free estimates with explanations so you always have the information you need to make good decisions. We also deliver same-day 24/7 service for emergencies, helping you get back to enjoying your home by repairing noisy units that aren't working properly. For added peace of mind. Our company is accredited by the BBB and holds a Top Rated ranking from Home Advisor.
Need help with air conditioner repair in Dublin? Apex Plumbing, Heating, and Air Pros are here for your needs with fast AC repair, excellent customer service and 24/7 support. Call us today!