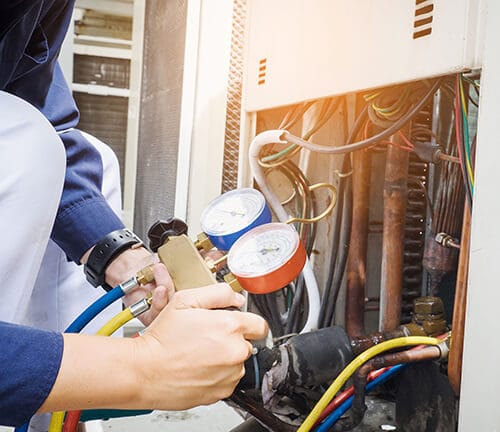 If your AC is blowing warm air or making odd noises, reach out for air conditioner repair in Newark, OH and make it right. An air conditioner that struggles is wearing out critical parts, reducing its service life and efficiency. Expert AC repair can get to the heart of the problem, which is often a common problem that doesn't take long to fix. Airflow issues, refrigerant leaks, and electrical issues affect performance and reliability. With the right tools and experience, they're found and repaired right. Skilled technicians even handle today's more complex AC units and control systems, so you're covered.
Emergency Air Conditioner Repair in Newark
From legacy systems you've nurtured for decades to today's a high-performance variable speed compressor AC units, well-trained technicians have the necessary knowledge. Their AC repair training and years of experience give them a feel for the equipment and the many configurations that are found in Newark homes. No matter what kind of air conditioner you have, how your single or zoned ductwork is configured, and what air quality features you have, they're ready. With refrigerant leak sniffers, electrical test gear, airflow testers, and other tools, they're more prepared than ever to serve you well.
These are signs that your AC needs attention:
Changing the thermostat doesn't start cooling
Increasing energy use for unknown reasons
Airflow is warm or nearly nonexistent
Unusual sounds or smells, and leaks
Taking a whole-system view of your HVAC system, skilled air conditioner repair technicians go beyond restoring operation and make sure the fix they implement is long-lasting. A common problem is the AC simply not starting. There are a number of electrical components to test, and the repair may be simple. Expert technicians will think about the age of the unit. If it's older and the problem is typical for that age, that's one thing. If it's an early failure, there may be a hidden cause that needs to be found, like wiring problems or short-cycling.
Experienced air conditioner repair technicians also ensure that they're leaving you with an HVAC system in good condition. If the electrical repair restores operation but your cooling isn't up to standards, they'll talk with you about that and provide an estimate to make it right. It's often a nice surprise for customers when they realize their AC hasn't been cooling well for some time. After the repair visit, they're better off than they expected!
Many of today's homes have complex, energy-saving HVAC systems that require advanced AC repair skills. That's what today's technicians are prepared to provide. From smart homes and smart thermostats to variable-speed compressors that adapt to your cooling needs, they're trained and experienced. Zoned ductwork systems can also be a challenge to sort out, but logical, expert air conditioner repair professionals diagnose logically and repair well. If you still have an older system, look forward to experienced care as well!
Certified AC Repair in Newark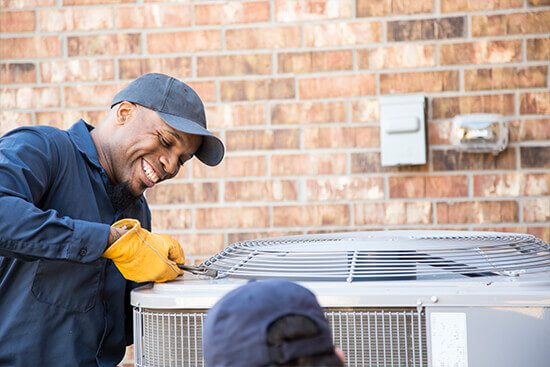 When your AC isn't serving you right, it's time for the professionals to take a look. At Apex Plumbing, Heating, and Air Pros, our team is highly trained and experienced. We're ready to handle whatever make, model, and configuration of AC your Newark home has, and sort out problems efficiently. Our technicians arrive with a well-stocked vehicle so they can get to work and complete most repairs on the spot. Friendly, helpful customer service staff takes your calls 24/7, and we provide answers, quotes, and even second opinions on your AC repair work. Five-star satisfaction is our goal, and our thousands of great reviews reflect that purpose! You get quality work from the "Pros Who Knows!"
Get expert air conditioner repair work by the Pros from Apex Plumbing, Heating, and Air Pros in Newark for lasting results. Call 24/7 to schedule a visit!