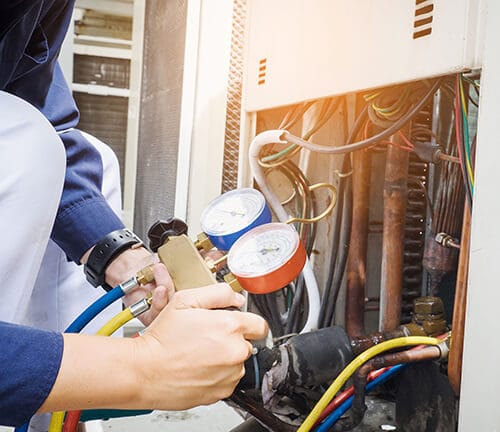 If you're in need of air conditioner repair in Powell, OH, it's a good idea to enlist the services of a professional HVAC company. There are many reasons why your air conditioner may be malfunctioning, and an experienced technician can help get to the bottom of the issue and safely repair your system.
As the seasons change and the warmer months approach, it's important that your air conditioner performs at maximum efficiency to ensure smooth operation during unexpected heat waves and the hot, humid days of late summer. By taking steps to schedule repair services ahead of the summer season, you'll have the peace of mind in knowing your space will remain cool and comfortable as the temperatures rise.
Quality Air Conditioner Repair in Powell
Most central air systems are designed to last between 15 and 20 years when properly maintained. If your system is reaching "mid-life," it may require more repairs than when you first installed it. Scheduling repair service as soon as you detect an issue with your AC - no matter how small, can help you extend the overall life of your system.
When an air conditioner is forced to work hard due to clogged air filters or damaged components that slow it down, it can lead to increased energy bills and overall poor performance. A licensed air conditioner repair specialist will be able to effectively troubleshoot any issue your system may have and conduct the proper repairs to get it running efficiently again.
Here are some common AC repairs that can help get your system back on track:
Air filter replacement
Damaged condenser coil repairs and replacements
Blower motor replacements
Leak repairs or replenishing refrigerant
Some common air conditioner issues include clogged air filters, dirty or damaged condenser coils, sensor control failures, and refrigerant leaks. If your filters are clogged, you may notice dust build-up on your vents, or it may take longer than usual for your space to cool off once you turn on your AC. Damaged condenser coils can cause warm air to come out of the vents, even if your thermostat is set to a cold temperature. If the system's sensor is faulty or failing, the air conditioner won't shut off after it reaches pre-set temperatures, and you may notice that it's extra cold in your home.
Refrigerant leaks can cause many issues that include higher energy bills, bubbling or hissing sounds coming from the AC unit, humid indoor air, and extended cooling cycles. The most telltale and common sign of a refrigerant leak is poor cooling. Refrigerant leaks can cause air conditioners to "plateau" during the hottest time of the day, and you'll notice that the system is running, but the temperature won't go down.
Powell AC Repair Services You Can Trust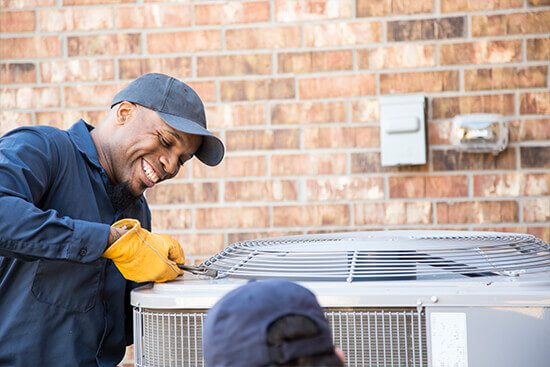 If you're ready to get started with your air conditioner repair project, Apex Plumbing, Heating, and Air Pros is standing by and ready to assist! We've served the local community for many years, and ensuring our customers are safe and comfortable is at the top of our list. Whether your AC system needs a few minor repairs or a complete overhaul, you can count on us to provide top-notch service. We offer a 5-star customer satisfaction guarantee with every job, and our professional technicians are available 24/7 for all air conditioning repair emergencies. We've earned many 5-star reviews from our loyal, satisfied customers, and we look forward to assisting with all of your AC repair needs!
From friendly, experienced technicians to prompt, efficient service, Apex Plumbing, Heating, and Air Pros has a lot to offer. We look forward to working with you, contact us today to schedule your air conditioner repair in Powell!