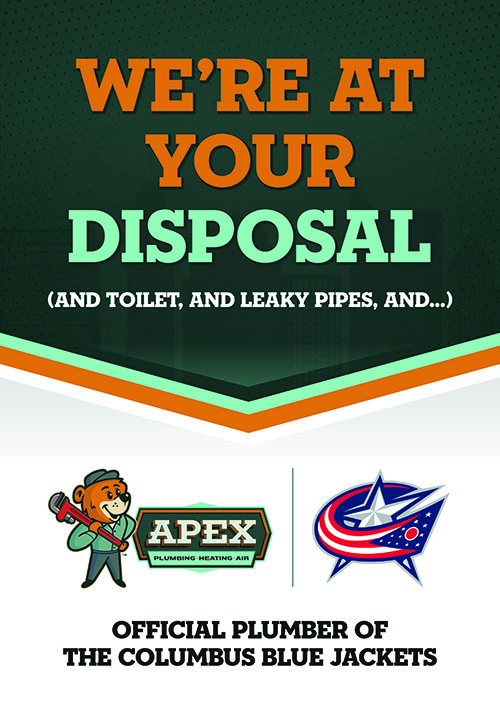 Breaking news that's sure to set the city abuzz: Apex Plumbing, Heating and Air Pros, Columbus, Ohio's leading plumbing company, has struck an exciting partnership with none other than our favorite NHL team, the Columbus Blue Jackets! This unexpected union is all set to redefine the concept of teamwork, not just within the ice-cold rinks, but also in the realm of family entertainment and top-tier plumbing services.
Why the Blue Jackets and Apex Pros?
When it comes to Apex Plumbing, Heating and Air Pros, our commitment to excellence and ensuring customers' smiles are both in our company's DNA. Our track record of delivering top-notch plumbing solutions, guaranteeing homes are cozy, secure, and functioning without a hitch, speaks for itself.
Pairing up with the Columbus Blue Jackets, a sports giant that's as family-oriented as they come, is a genius move that broadens our impact and lets us sprinkle some magic into countless households. Whether you're lounging at home or catching the game at the bustling Nationwide Arena, remember, with Apex Plumbing, Heating and Air Pros as the go-to plumber for the Columbus Blue Jackets, you're never without a dependable solution!
"Why the Columbus Blue Jackets?" you might ask. Well, it's not just about goals and power plays. This partnership makes sense because the Blue Jackets stand for unity, resilience, and moments that get etched into the memory banks of families. Their passion for infusing joy into lives aligns perfectly with our mission. It's a privilege to link arms with a squad that shares the vision of nurturing a thriving community.
And with the Blue Jackets in the picture, brace yourselves for some seriously entertaining events blending plumbing prowess and witty repartee. Get ready to see families double over with laughter, thinking, "Who knew plumbers could be this cool?"
Cheer With Columbus!
Join us as our team at Apex Plumbing, Heating and Air Pros and the Columbus Blue Jackets embark on an audacious adventure to fortify Columbus and add a dash of vibrancy. Expect a line-up of engaging events that promise to be nothing short of spectacular. This isn't just about the ice and the pipes; it's about delivering unbeatable plumbing services to families.
Stay on the edge of your seats for updates that promise to be as exhilarating as a game-winning goal. From thrilling news to collaborative endeavors, this journey is bound to be a roller-coaster of excitement. Your unwavering support is the wind beneath our wings as we rally behind the Columbus Blue Jackets!
We're incredibly proud to serve our local Columbus community with the best in plumbing services, and so excited to be partnering with our city's very own Blue Jackets. We invite you to cheer on our team alongside your favorite plumbers, and don't forget who to call for all your plumbing needs!