If you run a business in Marysville, OH, you're likely going to need the services of a commercial plumber at some point. A commercial plumbing contractor, like Apex Plumbing, Heating, and Air Pros, will have unique insight into the specialized needs of businesses. A plumber who focuses solely on residential installations, on the other hand, may not be equipped to handle commercial plumbing on a larger scale and with increased complexity. Worry not, though, because the Apex Plumbing, Heating, and Air Pros team is here to help. Let's take a closer look at our plumbing services for commercial organizations.

A Commercial Plumber for Your Marysville Business
Every business is unique, and its plumbing system should be as well. A fitness center with a pool and locker rooms, for example, will have markedly different plumbing requirements than a shopping mall or industrial facility. This is why it is so important to work with a commercial plumber who is up to the task of meeting your company's unique needs.
The Apex Plumbing, Heating, and Air Pros team has helped numerous businesses in Marysville and throughout the surrounding communities, and we have the experience required to deliver exactly the plumbing system you need. After touring your facility and learning a bit about your operations, we can design and implement a plumbing system that is perfectly tailored to the needs of your business, along with your budget.
In addition, we can help you maintain that system over the ensuing years. We are proud to offer both general maintenance and targeted repair services for our commercial clients. You can count on us to quickly identify any problems and get things back up and running so there is minimal disruption to your business operations. We recognize how important your time is and don't want to take up any more of it than is absolutely necessary.
If you notice any of the following, your commercial plumbing system may be in need of repair:
Increasing water usage and costs
Leaks or drips
Clogged or slow drains
Water pressure or flow irregularities
Improper water temperature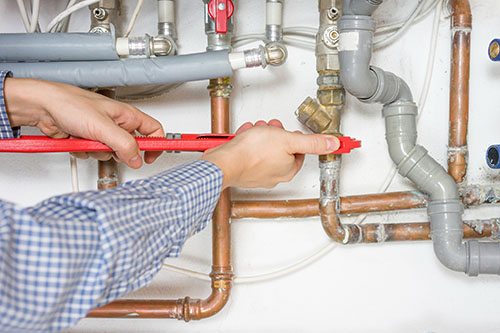 Any of these signs could indicate an issue with your commercial plumbing, though this list is by no means exhaustive. If anything doesn't seem quite right, get in touch with us right away for an inspection. We'll let you know what needs to be done to get your system back to optimal functionality.
Marysville's Best Commercial Plumbing Contractor
They don't call us the "Home of the Pros" for nothing. We have worked hard to establish our reputation as a leading commercial plumbing company, and our plumbers are committed to ongoing education to keep their skills and knowledge in top shape.
Reach out to Apex Plumbing, Heating, and Air Pros today to learn more about how our commercial plumbers can help your Marysville business!