Rely on Apex Plumbing, Heating, and Air Pros and our plumbers for 5 star plumbing services no matter what your plumbing needs are in Marysville, OH. We're the "home of the pros" with a team that's not only experienced and ready to respond including 24/7 for emergencies, but skilled at customer service. We offer transparent pricing and free, no-obligation estimates, with both financing for qualified customers and our Care Bear Club to help you manage your plumbing services needs.
Our team provides 100% satisfaction for our customers, whether it's solving a running toilet or addressing low water pressure. We're BBB accredited with licensed and insured plumbers, ready to help with your plumbing concerns including repairing old, leaking pipes, installing new, water-saving toilets, showers, and faucets, and other plumbing projects. We not only fix plumbing problems, we can help identify potential issues and prevent trouble to reduce water damage and late-night emergency visits.
Don't be on the hunt any longer! Apex Plumbing, Heating, and Air Pros provides efficient heating and cooling services in Marysville. We also offer a Care Plan Membership.
Call a Trusted Marysville Plumber
Who do you call for plumbing emergencies or important projects? If you don't have Apex Plumbing, Heating, and Air Pros on speed dial already, you're probably searching for a plumber and reading reviews instead of going with the one you know and trust. Our plumbing services are consistently excellent and performed to meet and exceed our customers' standards, so we have plenty of repeat business from customers who have found a plumbing company they trust in Marysville.
Our expert plumbing services include:
Gas lines
Hydro jetting
Sewer video inspections
Trenchless pipe repair
Repiping
Kitchen plumbing
Toilet repair and installation
Backflow testing and repair
Septic tanks
Slab leak repair
Water line repair and installation
5-Star Plumbing Services in Marysville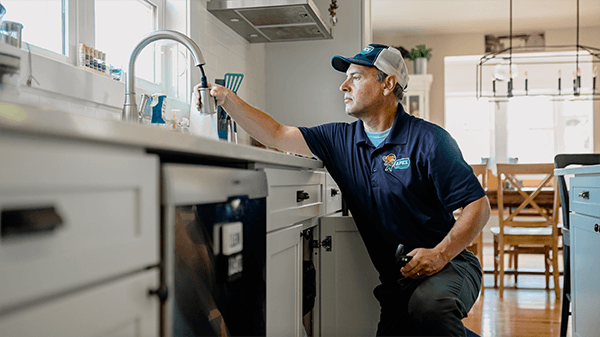 Consistently high quality is our vow, with 5 star plumbing services provided by our expert plumbers who draw on extensive experience and knowledge. For example, we don't just clean out drains when the problem goes deeper, we offer hydro jetting to get to the root of the clog and look for unexpected issues like blocked plumbing vents. From water pressure problems to sewer line backup, our experience gets you the most complete maintenance and plumbing repairs.
Apex Plumbing, Heating, and Air Pros provides emergency plumbing services 24/7, thorough repairs, and trusted plumbing care for your home in Marysville. Our 5-star satisfaction guarantee and team of outstanding plumbers make us your best choice for all your plumbing needs.
Are you looking for plumbers you can trust to take care of all your plumbing services? Call Apex Plumbing, Heating, and Air Pros today!