At some point, you're likely to need drain cleaning in your Delaware, OH, home. This is because there are times when your drains are blocked, and you'll be able to remedy it with store-bought products and a plunger. However, there are also times when you simply won't be able to do a thing. It's then that you need the team at Apex Plumbing, Heating, and Air Pros to help. There are many things that can clog your drains including hair, food, and debris. If you suspect your drain is blocked and in need of cleaning, you should contact us today and book your drain cleaning services. We have the equipment that's required to clean even the most stubborn blockages as well as the experience of working on some of the most severe clogs imaginable.
Best Drain Cleaning Services in Delaware
Keeping your plumbing running as efficiently as possible is important as ignoring warning signs can leave you facing huge bills. If you ignore the signs that your drains are blocked, you run the risk of causing damage to your home and being faced with costly replacement bills. Our team can help you when you spot one or more of the popular warning signs that your drains are blocked.
Hair: Hair is a significant cause of drain backups because it binds with grease and other sticky material to form knotted clumps that are difficult to remove.
Soap: You may wonder how soap can contribute to blocked drains, but the fact is that some soaps are made with grease or fat, which combines with minerals in the water to clog your pipes.
Dirt: While the purpose of washing clothes is to remove dirt, you can spare yourself some aggravation by removing as much loose dirt and mud as possible before putting your clothes in the washing machine. Doing this will prevent the dirt from accumulating and forming clogs.
Food Waste: Many people make the mistake of putting food waste and debris down the drain instead of putting it in the trash or on a compost pile. Food waste, coffee grounds, and tea leaves don't break down and solidify over time to cause significant blockages.
Minerals: If your water has a high mineral content, these dissolved substances can quickly build up over time, causing drains to become slow and eventually stop.
Toilet Paper: If you're one of those people who insists on using a lot of toilet paper, remember that too much going down the drain at one time can cause a blockage.
Working with professionals helps you get your drain as clean as the day it was first installed. We have a ton of experience providing drain cleaning services in Delaware.
Delaware's Leading Drain Cleaning Company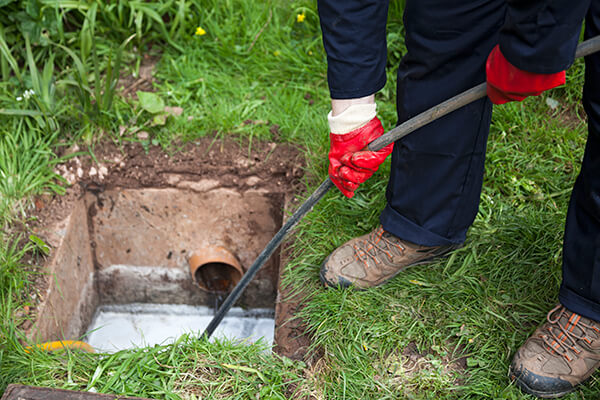 The experts at Apex Plumbing, Heating, and Air Pros have many years of experience working in Delaware and have pledged to deliver a five-star service to our customers each and every time. Our plumbers have the greatest knowledge and industry-leading technology that makes us a perfect choice for all of your plumbing needs. We work with your best interests in mind and will complete our work in the fastest yet most efficient manner possible. Our licensed and qualified professionals offer the best drain cleaning in Delaware.
To find out more about the expert drain cleaning services we offer, contact the team at Apex Plumbing, Heating, and Air Pros today. One of our professionals will talk you through your options and book your consultation.