Is it time for you to find a plumbing company you can keep on speed dial for both emergencies and routine care? Apex Plumbing, Heating, and Air Pros is that company, providing 5 star plumbing services in Delaware, OH for every customer, every time. We're staffed with top notch professional plumbers, licensed and insured, and here at the "home of the pros" we've raised our standard of plumbing care and customer service to meet your expectations and rise above them. Our team's diagnostic and repair skills are excellent, and our emergency plumber provides plumbing services that take you out of crisis mode, with expert followup care if needed.
Our plumbing company is BBB accredited, with maintenance plans and financing options to help get quality plumbing services when you need them. When we answer your call in Delaware, we're 100% focused on your satisfaction, ensuring that we've met your needs and expectations before we call the job completed. Whether we're performing faucet repairs and other minor repairs, upgrading your toilets, showers, and sinks to new water-saving models, or installing new appliances, we do it with professional skill.
Don't be on the hunt any longer! Apex Plumbing, Heating, and Air Pros provides efficient plumbing and HVAC services you need in Delaware. We also offer a Care Plan Membership.
Reliable Delaware Plumbing Company
When you're planning an important plumbing project or reaching out in the night for a plumbing emergency, if you're familiar with Apex Plumbing, Heating, and Air Pros plumbing services then you're one step ahead. You can rely on the "home of the pros" to take care of you with 24/7 emergency plumbing care and reliable, start-to-finish focused plumbing service on your projects in Delaware.
Our expert plumbing services include:
Gas lines
Hydro jetting
Sewer video inspections
Trenchless pipe repair
Repiping
Kitchen plumbing
Toilet repair and installation
Backflow testing and repair
Septic tanks
Slab leak repair
Water lines
Delaware's Most Trusted Plumbing Services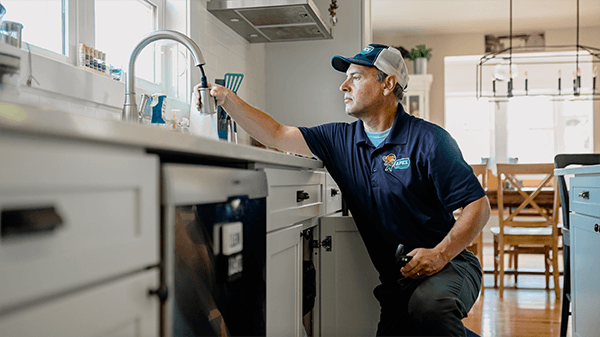 It's important to have a plumber you can trust. From managing large projects like sewer line repair to respecting your home and keeping it clean when we replace your water heater, our plumbing company earns your trust with skill and attention to detail. We're also available when you need us, from emergencies to preventive care.
Apex Plumbing, Heating, and Air Pros takes pride in doing a great job for you, meeting your standards for 100% customer satisfaction, and our own high standards as well. Our plumbing company provides 24/7 emergency plumbing services and experienced plumbing maintenance in Delaware.
For the highest level of service from the best plumbing company in Delaware, reach out to Apex Plumbing, Heating, and Air Pros today!