Apex Plumbing, Heating, and Air Pros provides furnace repair in Newark, OH. Having a reliable furnace is essential for keeping them comfortable and warm throughout even the coldest months of the year. Regular furnace service visits keep your heating working as efficiently as possible, and can prolong the lifespan of your furnace too.
Furnace Repair and Maintenance Experts
The winter months can become quite cold in Newark, so it's important to have reliable and efficient heating. Gas furnaces tend to be quite reliable, but clogged vents, failed motors and broken heat exchangers can happen with older heating systems. If you notice issues with your heating, it's a good idea to schedule a furnace repair visit as soon as possible. Fixing minor problems such as blocked air filters as soon as you notice them can prevent those issues from turning into more serious problems that require more complex repairs.
It may be time to repair your furnace if you are experiencing any of the following issues:
The pilot light won't stay on
The pilot light is not burning yellow
Odd smells or noises coming from the heating
Visible stains or soot around the heating's vents
Keeping gas appliances in a good state of repair is essential, both to keep the running costs of the appliance down, but also for safety reasons. If your furnace's heat exchanger is broken there's a risk that it could be releasing carbon dioxide, nitrogen oxides, and carbon monoxide into your home. These gasses can be dangerous, so identifying problems with the heat exchanger quickly is important.
Newark's Trusted Furnace Repair Service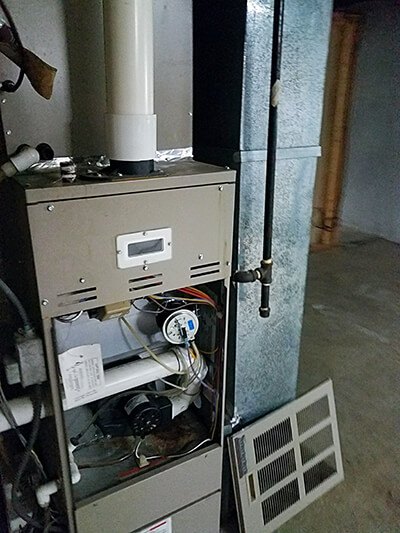 Apex Plumbing, Heating, and Air Pros has extensive experience in furnace repair and servicing. We are proud to service Newark and the surrounding areas, and take pride in helping local families keep their heating running efficiently. Our business has a five-star service guarantee, and hope our extensive list of positive reviews reflects the commitment we've made to good customer service and high standards in all of the work that we do.
If you haven't had your furnace serviced in a while, call us to book an appointment so you have peace of mind that when winter comes your heating will be reliable for you. And don't forget, our helplines are open 24 hours a day if you need urgent furnace repair!
Looking for more than furnace repair? Apex Plumbing, Heating, and Air Pros can also handle your installation, maintenance and air conditioning repair services! Trust the Pros Who Knows!
Call Apex Plumbing, Heating, and Air Pros today and we'll send one of our professional heating engineers to get your system back up and running as quickly as possible.