As the chilly winds of Dublin, OH, begin to sway the trees, feeling assured your home will remain warm and cozy throughout the winter becomes a top priority for many residents. Whether your home is heated by a furnace or heat pump, understanding the best ways to heat your home efficiently is necessary not only for your comfort but also for cost savings. At Apex Plumbing, Heating, and Air Pros, we are dedicated to providing a wide range of HVAC solutions. If you're unsure about your current heating system, our team can help.
Efficient, High Functioning Furnaces
When you think of reliable heating, furnaces are often one of the first options that come to mind. Both electric and gas furnaces are excellent choices for homeowners, providing consistent warmth with slightly different advantages. Gas furnaces are designed to burn natural gas to produce powerful heat, ensuring that every corner of your home remains toasty even during the coldest months. Electric furnaces, on the other hand, may be safer to use and come with lower upfront costs. If you're wondering whether a furnace is the right choice for your home or how often it needs maintenance, our team at Apex Plumbing, Heating, and Air Pros is here to guide you.
Versatile Heat Pumps in Dublin
Heat pumps are another fantastic option to consider when it comes to heating your Dublin home. Unlike traditional furnaces, heat pumps don't generate heat. Instead, they transfer heat from one place to another, making them exceptionally efficient in milder winter climates. Given Dublin's relatively mild winters, a heat pump can be a viable heating (and cooling) solution. The dual functionality of providing both heating in the winter and cooling in the summer makes heat pumps a favorite for many homeowners.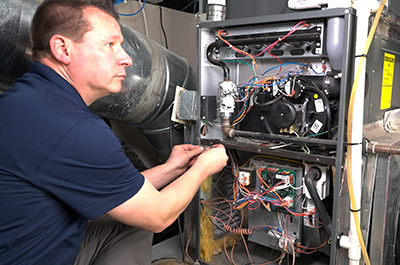 Furthermore, what truly sets heat pumps apart is their energy efficiency. By simply transferring heat rather than generating it from scratch, they use less energy, leading to potential savings on monthly utility bills.
Their versatility also extends beyond temperature control; they also act as dehumidifiers to maintain a comfortable, breathable, and healthy indoor environment. So, if you're seeking an eco-friendly and cost-effective alternative for heating in Dublin, heat pumps may very well be the answer. The adaptability and efficiency of these systems have earned them a respectable place in many Dublin homes.
Powerful and Reliable Gas Furnaces
In a city like Dublin, where the winters can be unpredictable, having a reliable gas furnace can make all the difference. They offer the promise of a warm embrace every time you step into your home, and often work well in larger homes that require a more powerful source of heat. If you already have a gas furnace but it's more than 12 years old or you're noticing signs such as strange sounds, a yellow pilot light, uneven heating, or higher-than-normal utility bills, it may be time for a repair or replacement.
Benefits of gas furnaces include:
Consistent heat output
Cost-effective operation
Long life with maintenance
Quick heating response
If you're looking for a dependable heating solution such as heat pumps or electric or gas furnaces in Dublin, OH, Apex Plumbing, Heating, and Air Pros is here for you. Call us to schedule a service today and experience the difference our professional guidance and expertise can make.
Get in touch with our team today to request a free estimate for furnaces and heat pumps in Dublin!