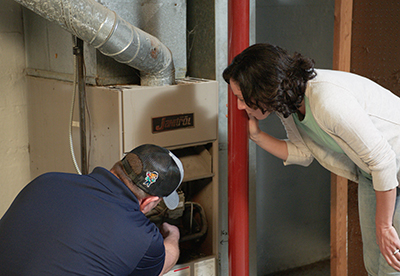 Many local residents use furnaces and heat pumps in their Gahanna, OH homes to provide much-needed warmth during the cold, snowy winters that are so common here. Both types of equipment can heat your home, and they each come with various benefits and drawbacks. Apex Plumbing, Heating, and Air Pros is here to help you understand your options for heating system installation, and we can also assist with your ongoing maintenance and repair needs. Read on to learn more about furnaces and heat pumps, along with the many HVAC services our team provides for them.
Your Choice for Electric and Gas Furnaces in Gahanna
A furnace heats your home by drawing in air, actively heating it, and then pumping the warm air throughout your home through a series of ducts. Both electric and gas furnaces are available to suit your home's requirements, your preferences, and your budget. Our HVAC technicians can help you evaluate your options and make an informed choice for your home.
Initial installation is easiest while a home in under construction or undergoing renovations, as there will be easier access to the internal workings of your home to install the air ducts. In general, installation services also include replacing older furnaces with newer models. Because your home will already be equipped with ducts, the installation process is much quicker and less complicated.
There are numerous benefits to replacing your furnace, despite the upfront cost, including:
Improved energy efficiency for lower heating bills
Less frequent need for repair
Reliability and peace of mind
Add value to your home
Even with the most high-quality furnace, you may still need repairs from time to time. Whether your furnace is working but not at its most efficient or isn't working at all, our team can inspect your system and identify the problem. Over the years, we have seen it all, so you can count on us to get your furnace back up and running.
To keep your furnace at its best, annual maintenance is crucial. These standard tune-up appointments keep your furnace operating efficiently, minimizing wear and tear on the system and maximizing its life. Your technician can also spot any looming issues before they have a chance to cause major problems, saving you money on repairs.
A Full Selection of Heat Pump Services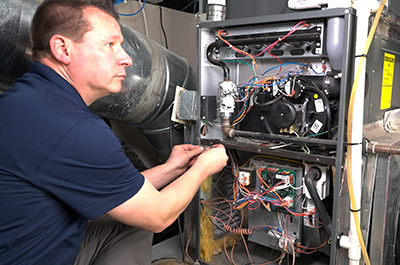 While furnaces only provide heat, a heat pump can both heat and cool your home. This is because of the unique way a heat pump operates. Rather than physically warming the air it takes in, a heat pump simply transfers heat into or out of your home, depending on the season. This makes its operation highly energy efficient, which can help you save on your utility bills. Because heat pumps provide heating and cooling functions, you only need one piece of equipment rather than two, helping you save even more.
The process for installing a heat pump depends on which style you choose. Both ducted and ductless varieties are available, so you can make the switch regardless of whether your home already has ductwork installed. A ducted heat pump hooks up to the air ducts, while a ductless heat pump transfers heat through an exterior wall of your home between its interior and exterior components. Installation is quick and shouldn't take more than a single work session. In addition to heat pump installation, we also provide repair and maintenance services.
For electric and gas furnaces and heat pumps in Gahanna, Apex Plumbing, Heating, and Air Pros is here to help. Reach out today for a free consultation to discuss your home heating needs.