If you need emergency gas leak detection in Marysville, OH, the team of professional plumbers at Apex Plumbing, Heating, and Air Pros is ready to take your call. We're a fully licensed plumbing company, and all work comes with a 5-star satisfaction guarantee. Our plumbers are available 24/7 for emergencies, and they're experts at detecting and repairing all types of gas leaks. Gas leaks must be assessed as soon as possible to ensure the health and safety of our customers, so you can trust us to promptly arrive to your location and get right to work.

Call our office today to schedule service with the top-rated gas leak repair plumber in Marysville!
Reliable Gas Leak Detection and Repair Services in Marysville
A gas leak can turn into a dangerous situation in a short period of time, so it's important to contact a professional plumbing company the moment you suspect a leak may be present. Our plumbers have the professional skills and training necessary to safely assess and repair gas leaks in your home or business, so you should never attempt to remedy the situation on your own. We understand that timely detection is essential, so you can expect a rapid response from the moment you contact our office for assistance.
While the most obvious sign of a gas leak is a sulfur-like odor, there are instances in which leaks may be present without odor. Natural gas has no odor, but gas companies treat it with special chemicals so it can easily be detected in the event of a gas leak. However, slow gas leaks sometimes don't produce enough natural gas to create a noticeable odor, which is why it's always a good idea to schedule periodic maintenance checks for your gas line and gas appliances.
Signs that can also indicate a gas leak include:

Higher than normal gas bill (especially with slow leaks)
Bubbling water puddles or bubbles in moist ground

Dust or debris blowing in the air around gas line
Hissing sounds coming from gas fittings
If you suspect a gas leak is present in your home or business, the first thing to do is go outside immediately. Don't open any windows or garage doors, and don't turn on any lights or appliances.
Experiencing symptoms from a gas leak? At Apex Plumbing, Heating, and Air Pros your safety and comfort are our business. Contact us immediately to schedule emergency service so we can provide a safe, effective solution.
Professional Gas Leak Repair Services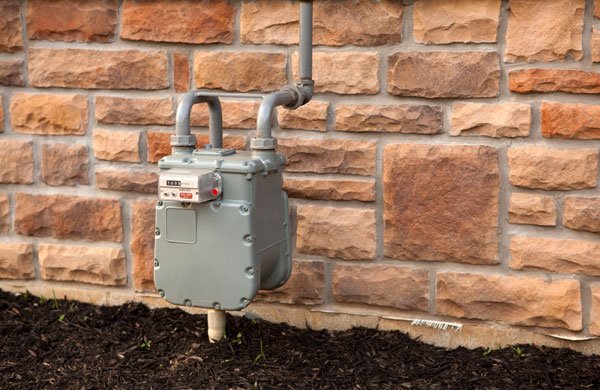 The plumbers at Apex Plumbing, Heating, and Air Pros have extensive experience with gas leak detection and repair. Our customers are our top priority, and you can count on us to provide 5-star service with every job. We take the safety of our clients very seriously, so you can rest assured our team will take all necessary precautions when detecting and repairing gas leaks at your home or business. Whether you're dealing with an active gas leak or you're concerned about a possible leak, we handle all gas-related service calls equally and our team is standing by and ready to help.
Contact the team at Apex Plumbing, Heating, and Air Pros today to schedule a gas leak repair call in Marysville!