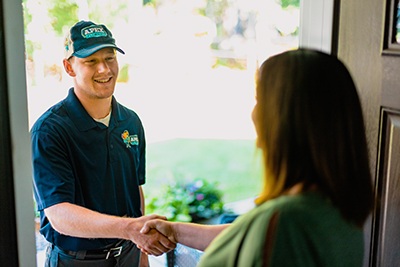 When it comes to expertise in HVAC in Dublin, OH, nobody offers a better service than the team here at Apex Plumbing, Heating, and Air Pros. We've been offering our heating and cooling services throughout the community for years and we're proud to be a BBB-accredited business. It means you can trust us to give you honest and professional service at every point in the customer experience. From the moment you call us to the moment we leave your home, we'll work hard to make you happy. From heating and cooling repairs and installation to tune-ups that leave your system in great condition, we can do it all.
HVAC Repair Experts in Dublin
When you are looking for dependable HVAC repair in Dublin, Apex Plumbing, Heating, and Air Pros has you covered. We know that heating and cooling problems can occur out of the blue and disrupt your routine. Whether you are sweating in the middle of a heatwave, or your furnace has broken down on a cold and dark morning, we're here for you. We're here for you 24/7, in fact! No matter what type of problem you are experiencing, we'll have your system up and running as quickly as we can. We excel in a wide selection of heating and cooling services. From repairs to gas and electric furnaces to heat pumps and ductless mini-splits, we cater to all needs.
Our HVAC services include:
IAQ testing
Humidifiers
Dehumidifiers
Air purifiers
UV lights
Air scrubbers
Air balancing
Zoning systems
Thermostats
Ductwork
Looking for more than HVAC in Dublin? Apex Plumbing, Heating, and Air Pros also offers professional plumbing solutions!
The Heating and Cooling Installation Pros
There are times when there is nothing for it but to replace your HVAC system. At Apex Plumbing, Heating, and Air Pros, we excel in replacing and installing a wide selection of systems. Whether you would like to find out about the latest zoning systems, or you're looking to upgrade your gas furnace, we'll recommend the best system to suit your specific needs and ensure you are delighted with the results.
HVAC Maintenance Services That Can Save You Money
Your HVAC system is your best protection from the summer heat and winter chills, but it needs to be working perfectly to give you the best performance. That's where our heating and cooling maintenance services come in. Our HVAC professionals will carry out an in-depth tune-up of your system that involves a series of safety and functionality checks and tasks. From cleaning your system to testing performance and lubricating parts, we leave no stone unturned when it comes to maintaining your system.
Turn to Apex Plumbing, Heating, and Air Pros for your HVAC in Dublin and call the dependable and friendly team today. We're standing by ready to help you.