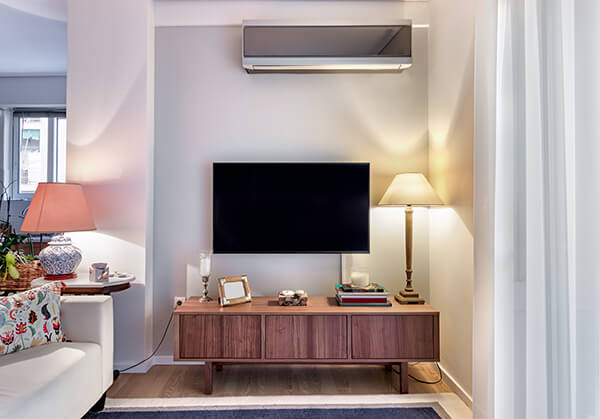 Don't settle for cooling that doesn't meet your needs efficiently and effectively, consider mini-split air conditioners in Grove City, OH as part of your solution. From efficient, discreet whole-house cooling without ductwork to specialized cooling for home offices and nurseries, ductless AC steps up where needed. It's based on technology similar to central air, but delivers cooling directly to each room where air is cooled and circulated locally. For many decades, mini-splits have solved the world's AC challenges from condos to lofts, bungalows to mansions.
Efficient Mini-Split Air Conditioners in Grove City
You've probably seen ductless AC units provide main or supplemental cooling for buildings in Grove City and not realized what they are. Efficient mini-split air conditioners look a lot like regular central air with a compressor unit installed outside your home. Inside, though, a small line comes through the outside wall and connects to a distribution unit. These are small cooling and air circulation devices that serve rooms individually, mounted on the floor, wall, or ceiling. Ductless AC distribution units have customizable control features for efficiency and convenience, such as timed thermostats, remote controls, even motion sensors.
If the square footage of your home doesn't lend itself to complex ductwork but you want well-distributed cooling, you don't need to use temporary windows or portable units. Mini-split air conditioners can supply each room with perfect cooling, up to four per central compressor unit. For larger homes, they scale to serve even more spaces without ducts. If you have an older home or open architecture and don't want to install or replace old ductwork, this could be the solution you're looking for. For condos, detached garage workshops, home offices, attic bedrooms, or nurseries, you can have the cooling you need targeted to your spaces directly.
Installation of a ductless AC and routine servicing is straightforward. The main unit is installed outside, customized to the BTU capacity you need. Small refrigerant lines are run directly into each room or space served, providing localized cooling and airflow, even HEPA filtration. It's as convenient as zoned ductwork and thermostat control, but easier to install. With mini-splits, you can also keep individual spaces efficiently cool while giving your central air a break.
Features of ductless AC include:
High-efficiency, multi-room central compressor unit
Local air circulation and HEPA filtration option
Timer-controlled thermostat control
Discreet distribution head installation options
Options like remote control, motion sensor, smartphone app
Expert Ductless AC Services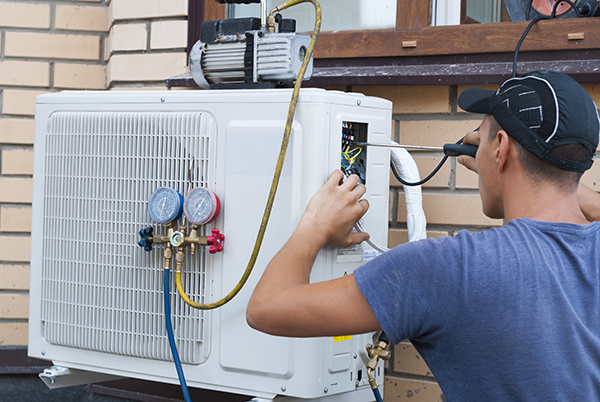 You show us your home and we'll create the perfect HVAC solution with Apex Plumbing, Heating, and Air Pros design teams and expert installers. We call ourselves the "Home of the Pros" because we go beyond routine drop-in system installation and services, to meet the needs of our customers in Grove City. Our higher level of service provides greater comfort for your family and excellent energy efficiency as well. Thousands of excellent online reviews reflect our results over the years, both from our skilled technical team and our friendly customer service experts. If you find yourself heading for comfort compromises, let us recommend a better solution. We love to provide second opinions and clear, competitive quotes for HVAC designs that we're proud to offer. Five-star satisfaction is what our "Pros Who Knows" deliver, and when you need help urgently we're here 24/7. Just give us a call, and you'll discover the difference we can make.
How can mini-split air conditioners solve your custom cooling needs in Grove City? Our Apex Plumbing, Heating, and Air Pros creative HVAC design team has answers, call today!