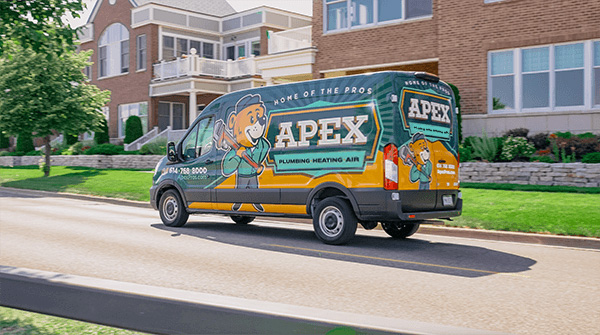 As your full-service plumber in Newark, OH, Apex Plumbing, Heating, and Air Pros provides top-quality plumbing company services. Our team's deep knowledge of both residential and commercial plumbing prepares us for anything you might need. From toilet repairs to sewer and septic services, garbage disposals to kitchen renovation, you've found the one 24-hour number to call. Over 6,500 great reviews, decades of five-star service for our customers, and a guarantee of the same for you are all part of why we're the "Home of the Pros." We invite you to experience our licensed, insured, and ready-to-respond plumbing excellence!
Experienced Plumbers in Newark, OH
Working with Apex Plumbing, Heating, and Air Pros, you'll experience a feeling of confidence as our plumbers are prepared to meet any challenge your Newark home's plumbing presents. When your situation is urgent, from backed-up drains to water leaks, you know we'll have the experience and resources to deal with it. Our fast response and free estimates mean you can take prompt action on urgent problems and minimize their impact. For routine plumbing repairs, updates, and renovations, we're prompt, professional, and clean up carefully afterward. You'll find the easiest way to take care of any plumbing issue around the house is a simple call to our plumbing company!
Our plumbing services include:
Water heater repair
Water filtration
Gas leak detection & repair
Gas line repair & installation
Hydro jetting
Sewer video inspections
Repiping
Kitchen plumbing
Toilet repair & installation
Backflow testing & repair
Slab leak repair
Commercial plumbing
Water leak detection & repair
Main water lines
Septic tanks
Trenchless pipe repair
One great way to get to know us is to call for plumbing inspection and maintenance services. You'll see us at work, carefully ensuring that your plumbing and appliances, such as water heaters, meet our high standards. We'll follow our expert checklists that can improve the reliability, longevity, and energy efficiency of plumbing features in your home. You'll even note how clean and punctual our professionals are!
Apex Plumbing, Heating, and Air Pros also provides professional HVAC services in Newark. We also offer care plan memberships with our Care Plan Membership.
A Plumbing Company Newark Can Count On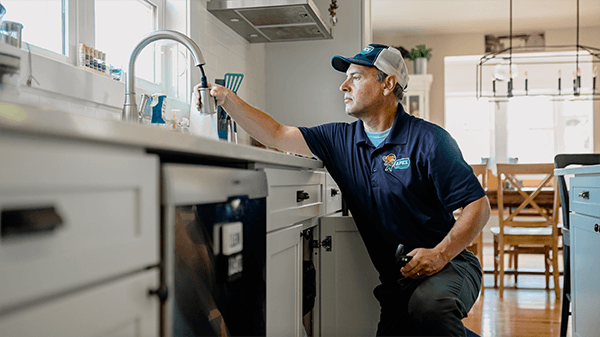 At Apex Plumbing, Heating, and Air Pros, we're experienced, licensed, and insured. We serve the Newark area and keep our commitments. As the "Home of the Pros," our residential and commercial plumbers have the talent and knowledge to provide excellent plumbing solutions. Our free estimates and clear explanation of your options make being a homeowner easier. Quick, high-quality service with a 100% satisfaction guarantee and over 6,000 past reviews provide confidence that when you call us, whether it's a minor matter or a major concern, you'll be glad you did.
When it's time to call a plumber, for emergencies or expert repairs, count on Apex Plumbing, Heating, and Air Pros for five-star work in Newark. Call today and get to know us!