Apex Plumbing, Heating, and Air Pros offers hassle-free sump pump installation and repair in Reynoldsburg, OH. Preventing flooding and other types of water damage is important to any homeowner or business. When a sump pump breaks down, your basement or crawl space could suffer serious consequences.

When a replacement pump is long overdue, Apex Plumbing, Heating, and Air Pros is ready to go above and beyond. If your current unit needs fixing or tuning up, leave it to us to provide top-notch sump pump repair and maintenance.
Professional Sump Pump Installation in Reynoldsburg
While the danger of water damage to roofing is a common concern, protecting the foundation of your home or business is even more essential. Excess moisture invites mold, mildew and fungus growth, and standing water is a breeding ground for mosquitoes and similar insect pests. Having a working sump pump as part of your plumbing system is one way to help avoid these problems.
A professional plumber will know to install your pump above the highest anticipated water level. They'll be able to determine if the discharge pipe is properly sized for the sump pump and the wiring is properly configured. Pumps are typically powered by electricity, so the final step will be hooking the pump up to a power source. If you have a pump already installed, it's a good idea to have a professional check that it's plumbed properly. Factors like capacity, motor type and age all play a part in your sump pump's lifespan.
Warning signs of a malfunctioning sump pump include:
Decreased performance
Banging noises
Frequent clogging
Unit won't stop running
Getting a new sump pump installed is a big upfront investment, but the thousands of dollars flood damage may cause are worth keeping in mind. If you suspect you're in need of sump pump repair or maintenance, calling in experts like our skilled plumbers is your best option. We use the latest technologies to guarantee high-quality, lasting work.
Trusted Sump Pump Repair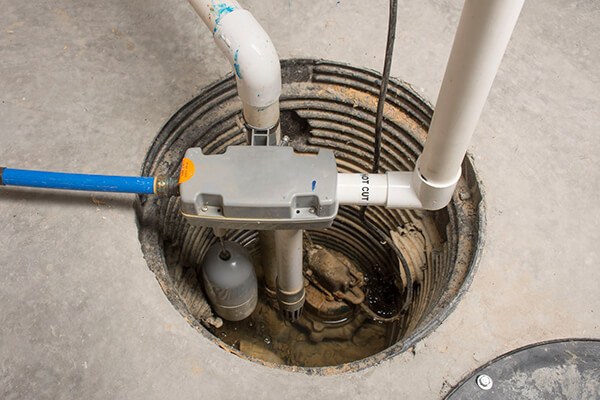 When we provide sump pump installation, repair or replacement, our customers know they're getting the best plumbing service in the Union County area. We're here for our customers whenever they need us, and we guarantee honest and transparent work. Our professional plumbers have the knowledge and experience to deliver the solutions you need. Your plumbing system is a major investment, which is why we even offer a VIP Maintenance Club to keep things running efficiently. We're happy when our customers are.
Are you looking for sump pump installation and repair in Reynoldsburg? Call Apex Plumbing, Heating, and Air Pros today for a free estimate!