Apex Plumbing, Heating, and Air Pros provides our well-known 5 star plumbing service to customers in Reynoldsburg, OH, every time we respond to a call. Here at the "home of the pros," that's how we operate, a reflection of our highly skilled, professional plumbers and our company's standards. Our team has top diagnostic skills and repair abilities, and customer service skills that make them easy to work with. Our emergency plumber service provides the same excellence, 24/7. Concerned about cost? We provide a free, no-obligation and transparent estimate.
Our plumbing company is BBB accredited and our plumbers are licensed and insured, ready to respond and provide efficient routine and emergency plumber service. We have financing options for qualified customers and maintenance agreements to help stay ahead of plumbing problems. Our team is 100% focused on your satisfaction in Reynoldsburg, and looking forward to working with you. Whether you're looking for remodeling of your kitchen or bathrooms, installation of new appliances or water-saving fixtures, upgrading of older pipes to avoid leaks from corrosion, or sewer and water line repair, we can help.
Don't be on the hunt any longer! Trust Apex Plumbing, Heating, and Air Pros with your HVAC services in Reynoldsburg. We also offer a Care Plan Membership.
Reliable Reynoldsburg Plumbing Company
Get to know Apex Plumbing, Heating, and Air Pros and you won't have to search when plumbing emergencies arise or you have a project ready but don't know who's right for it. We're the reliable, expert plumbing team for all your 24/7 emergency plumbing care and routine plumbing needs, from faucet and toilet leaks to sewer overflow and water supply failure in Reynoldsburg.
Our expert plumbing services include:
Gas lines
Hydro jetting
Sewer video inspections
Trenchless pipe repair
Repiping
Kitchen plumbing
Toilet repair and installation
Backflow testing and repair
Septic tanks
Slab leak repair
Water lines
Reynoldsburg's Best Emergency Plumber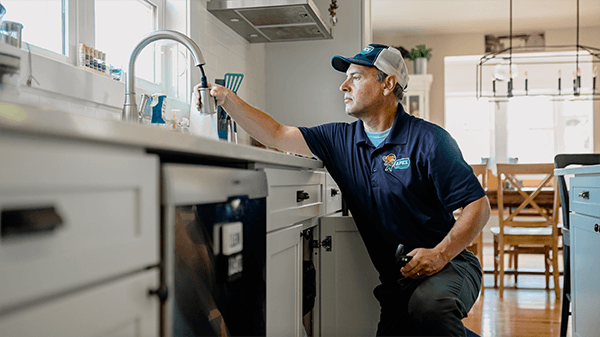 Our emergency plumbers come to you with broad knowledge and expertise, able to follow through with resolution of your urgent plumbing problems. We go beyond drain cleaning and leaks to get to the root of problems, providing an on-the-spot resolution and scheduling follow-up work as needed. Our plumbing company is your partner in keeping your home's pipes, appliances, fixtures, and utilities well managed.
Apex Plumbing, Heating, and Air Pros is your plumbing team for emergency plumber care 24/7, expert repairs, and responsive plumbing services for your home in Reynoldsburg. Remember our 5-star satisfaction guarantee, and expect the highest level of service on every call.
For the plumbing company that has you covered including emergency plumber services in Reynoldsburg, call Apex Plumbing, Heating, and Air Pros today!