Looking for a plumber who can assist with sump pumps in Newark, OH? A sump pump is an essential appliances for any home with a basements or crawlspace. They work by "pumping" or pushing away moisture from the home's foundation during periods of wet weather, which in turn helps prevent water damage. Whether your existing sump pump needs repairs or maintenance or you're thinking about installing a new sump pump in your home to keep it protected from rain and melting snow, a licensed plumber can help!

Expert Sump Pumps Service in Newark
When properly maintained, sump pumps generally last about 10 years. After this time, you may need sump pump replacement services if your unit requires constant repairs or fails to pump water efficiently. A failing sump pump can lead to issues such as water leaks, mold and mildew growth, high humidity levels in your basement, and in worst case scenarios - flooding. On the plus side, you can avoid all of these issues by scheduling timely repairs or sump pump replacement services at the first sign of an issue. Experienced plumbers have the skills, tools and equipment to repair or replace your sump pump in a prompt, efficient manner!
Signs your sump pump needs repair:
Sump pump vibrates loudly when operating
Sump pump cycles frequently
Visible rust on sump pump unit
Water leaking from sump pump
If your sump pump is leaking water, it can indicate an issue with the PVC piping. As your system ages, the PVC piping that pushes the water away from your home can develop small tears or holes. At first, you may not notice anything, but over time the tears and holes can grow to the point where the water pumps back into your home's sump pump pit. If not addressed as soon as possible, it can lead to flooding and water damage inside the home. In addition to visible water around the unit, your sump pump may run constantly. When you schedule sump pump repair for a leaking PVC pipe, your plumber may be able to remedy the issue by replacing the piping. If the damage is extensive, they may recommend sump pump replacement.
Trusted Sump Pump Replacement and Repair Services in Newark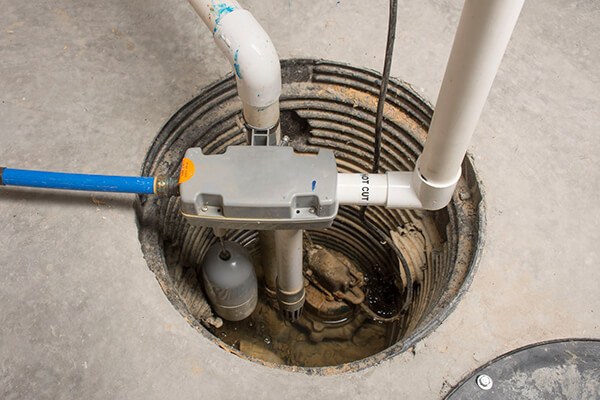 If you're ready to schedule a sump pump repair or replacement service call, Apex Plumbing, Heating, and Air Pros is standing by and ready to assist. We've been serving satisfied customers in Newark for many years, and our plumbers are highly trained and experienced in all areas of sump pump repair and installation.
Our company services and installs most major sump pump brands, makes and models, and all of our services come with a 5-star satisfaction guarantee. When you schedule service with us, you can expect full transparency, up-front pricing, accurate estimates, and open communication from start to finish. We understand that sump pumps can sometimes fail at inopportune times, and our answering service is open 24/7 to take your call and dispatch a licensed plumber to your location. We look forward to serving you!
Are you in need of expert sump pump services in Newark? Contact Apex Plumbing, Heating, and Air Pros today to get started!